Iman comments on death of David Bowie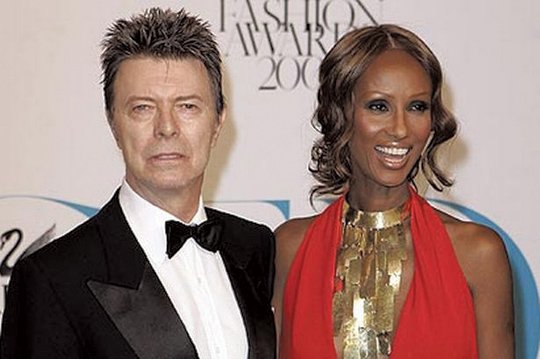 Iman this week posted a series of heartfelt Facebook messages upon the death of her husband David Bowie. The former supermodel had been married to the rock 'n roll legend for 23 years.
"The struggle is real, but so is God," she wrote on her public Twitter and Facebook accounts on Sunday, the day he died after a private, 18-month battle with cancer. On Monday, Iman reportedly received more than 2,000 messages of condolence. The Somali-American model and Bowie were parents to a teenaged daughter, Alexandria. Bowie had an older son, Duncan, from a previous marriage.
"Sometimes you never know the true value of a moment until it becomes a memory," Iman commented. "I will love you until I die ... I will see you in the sky #tonight happy birthday Mr. Bowie." Bowie released his final album, "Blackstar," on his birthday Jan. 8. Iman wrote: "Happy Birthday to the man who fell to earth. Forever Bowie," as well as "Life isn't about avoiding the bruises. It's about collecting the scars to prove we showed up for it."
In 1975, Bowie released the first of his two number one hits, "Fame" from his "Young Americans" album. The song featured a soulful, funk-based sound that quickly became a favorite on Black-oriented radio stations nationwide. The popularity of the song led to an appearance that year on Soul Train where he received a rousing reception from the teenaged dancers. Years later Bowie would call that song a "bluff" at soul singing, noting that he had always appreciated American soul music, particularly as the genre of funk became ever more popular among teenagers. The song is included in the Rock and Roll Hall of Fame's "500 Songs That Shaped Rock and Roll."
Bowie was residing in New York and, amid various conflicts with his manager, he went into the studio to complete the "Young Americans" tracks. He had the opportunity to work with John Lennon and the two held a one-day jam session at Electric Lady Studios. Guitarist Carlos Alomar had developed a guitar riff for Bowie's cover of The Flairs' "Footstompin" in that session but the singer opted not to record it. Lennon began singing "aim" over the riff, which Bowie turned into "Fame" and quickly wrote the remaining lyrics to the song.
Bowie said years later that the song was "nasty, angry" and admitted that it was written "... with a degree of malice" aimed at the Mainman Management Group he had been fighting with. In 1990, he said: "I'd had very upsetting management problems and a lot of that was built into the song. I've left all that behind me now ... I think fame itself is not a rewarding thing. The most you can say is that it gets you seats in restaurants."
Also in the mid-1970s, Bowie began an unexpected friendship with jazz great Nina Simone. Her record sales had begun to slump, concert dates were few-and-far between, and she was facing charges from the IRS. She and Bowie met one evening at a New York City club, the Hippopotamus, and he offered this advice: "You're genius overshadows the money, and you don't know what to do to get your money, whereas I wasn't a genius, but I planned, I wanted to be a rock 'n roll singer and I just got the right formula."