Baseball legend Monte Irvin dies
Merdies Hayes | 1/15/2016, 12:16 p.m. | Updated on 1/15/2016, 12:20 p.m.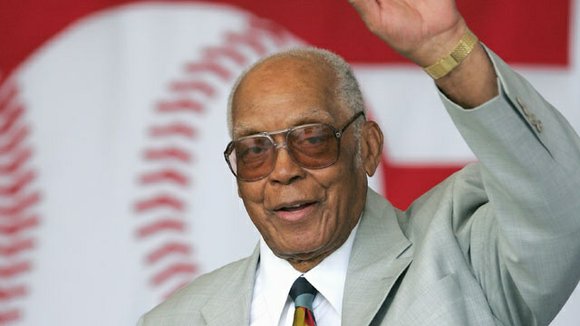 Monte Irvin, one of the first African Americans to play in Major League Baseball, died in Houston, Texas ,this week. He was 96.
Regarded as one of the best hitters and all-around players in the Negro Leagues, Irvin was a sensation for the Newark Eagles, making five All Star teams. In 1946, he won his second batting title as he helped Newark win the Negro World Series. Three years later, the New York Giants signed Irvin to a contract. Irvin played a vital role in the Giants' World Series titles in 1951 and 1954.
Irvin tied a World Series record with a .458 series batting average and 11 hits in 1951. In the regular season that year, he hit .312 with 24 home runs and a league-leading 121 RBI. Irvin played for the Giants for seven seasons. He also played one season with the Chicago Cubs.
"Monte was a true gentleman whose exceptional baseball talent was only surpassed by his character and kindness," said Laurence M. Baer, president and CEO of the San Francisco Giants. "He was a great ambassador for the game throughout his playing career and beyond. As the first Giant and one of the first African American players to help integrate Major League Baseball, he served as a role model and mentor to so many who followed in his footsteps—including Willie Mays.
Irvin played four seasons with Mays who released this statement:
"I lost someone I cared about and admired very, very much," Mays said. "Someone who was like a second father to me. Monte was a kind guy that you had to be around to get to know. But once you became friends, he always had your back. You had a friend for life. Monte Irvin was a great left fielder. Monte Irvin was a great man. I will miss him."
Major League Baseball Commissioner Robert D. Manfred said, "Monte Irvin was a true leader during a transformational era for our game. A longtime member of the Newark Eagles of the Negro Leagues in his native New Jersey, the All Star slugger made a seamless transition to the New York Giants in 1949."
During his prime playing days, Irvin was drafted into the Army and spent three years in military service with the Army Corps of Engineers in Europe during World War II. Before the war, Irvin had been the Negro Leagues choice to be the one to break the racial color barrier. But while he was in the service, Brooklyn Dodgers owner Branch Rickey selected and signed Jackie Robinson.
After retiring, Irvin scouted for the New York Mets and was the assistant to Major League Baseball Commissioner Bowie Kuhn from 1968 to 1984.
Irvin was inducted in to the Baseball Hall of Fame in 1973 and has been inducted into nine halls of fame including in the United States, Puerto Rico, Mexico and in Cuba.