Safety tips for stormy weather
1/8/2016, midnight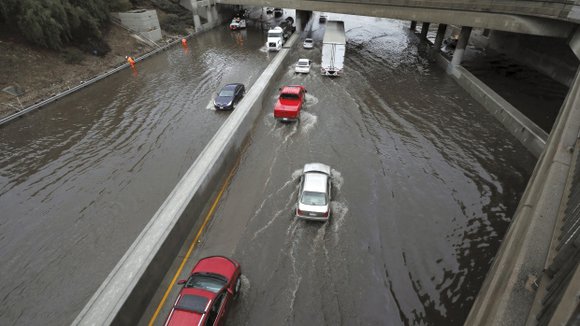 With meteorologists, climatologists and assorted experts estimating that this year's El Nino winter storms will be the strongest in years—and more rain forecasted for next week--the city of Palmdale is urging residents to be prepared for any number of storm-related incidents.
The National Weather Service this week issued a flash flood watch as the series of storms brought heavy rain, and caused mud slides and debris flows throughout the Los Angeles Basin. The mud slides occurred in hillside areas which burned over the past two years.
"A good resource for storm information and tips is the website www.lacounty.gov/elnino," said John Mylnar, Palmdale communications manager. "It provides storm-related resources including safety tips, weather forecasts, and information for homeowners affected by floods and mudslides. Additionally, visitors can find information guides, public service announcements, and a dedicated Twitter feed of first-responder agencies tweeting about this year's storms. It's mobile friendly and can be instantly translated into 90 languages."
The Palmdale Public Works Department has been busy for months preparing for El Nino. Among the steps taken has been inspection of all storm basins and flood channels, making sure they're clean, free of debris and are functioning properly. Crews are busy making and distributing sandbags, putting snow plows on trucks, inspecting sewers and, in the office, arranging for contractors and finalizing budgets for storm-related issues.
"We always encourage our residents to prepare for emergencies (because) we live in an area that is susceptible to earthquakes, fires and floods," Mylnar said. "In a major disaster, it may be several days before help arrives. Residents should set aside enough food, water and other necessities to 'shelter in place' for a minimum of three days."
Palmdale officials encourage residents to assess the safety of their home and belongings in case of a flood or mudslide. Notice if you're near a creek, or live above or below a steep hillside. Do you have to drive over a creek or bridge to get to a main road? If you cannot see the pavement, do not enter a flooded area because you cannot determine how deep the water is, and your vehicle may become stalled.
If you haven't done so, clear the drains and gutters around your home. Also, if diversion of water or mud is necessary, plan to fill sandbags—preferably before the rain starts. Sandbags are available at any fire station. Firefighters there will instruct you on the proper way to fill the bags and how to place them.
Other storm-related resources and information may be obtained at www.ready.gov, at www.antelopevalleycert.com and at www.redcross.org/ca/los-angeles.