Elevate your Easter brunch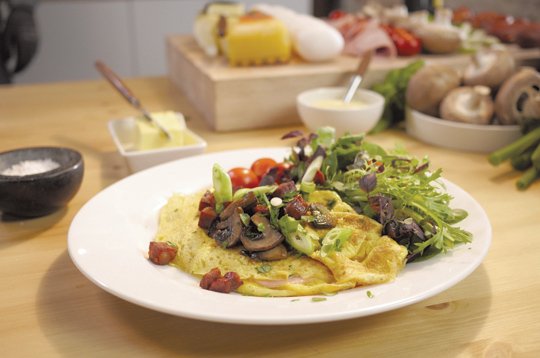 If you'll be hosting friends and family to honor Easter this year, make your gathering as simple as it is scrumptious with a decadent brunch menu.
If you're daunted by the diversity of dishes a brunch menu demands, remember that quality ingredients—not complex preparation—is what makes dishes truly stand out. Fresh produce and superior products instantly elevate a recipe from good to great.
These brunch staples all start as basics, but get a boost with the right combination of quality ingredients:
Made-to-order omelets are always a hit because they guarantee you're serving up exactly what your guests enjoy. Use a few winning ingredients to create an easy and quick omelet base, then offer an array of toppings, including unexpected flavors such as Jarlsberg Brand Cheese.Best known for its classic wedge, this nutty, mild cheese is also available in slices—perfect for the ooey-gooey factor everyone loves in an omelet.
A classic French quiche that combines fresh and flavorful ingredients is easy to make and tastes delicious hot or cold. The quiche is simple enough to make that you can prepare several varieties, giving guests plenty of options and handily filling a buffet spread. Simply prepare your crust and filling base then mix in fresh, crisp veggies that are steamed or lightly browned. Or create a savory, meaty quiche with your favorite sausage or bacon. Add some cheese before filling the crust and sprinkle more cheese on top before baking.
Finger foods bursting with flavor simply make brunch better. This recipe uses ready-rolled puff pastry sheets, rosemary and the distinctive taste of Jarlsberg Brand Cheese for a mouthwatering dish that can be featured at a tasting station or as part of a larger meal.
Find more recipes for your Easter brunch at jarlsberg.com.
Make Brunch a Breeze
Skip the stress this Easter with these tips to make preparing your holiday brunch simply delicious.
Choose several make-ahead dishes that you can prepare well in advance, such as quiche or a breakfast bake.

Skip time-intensive pancakes and instead serve up a French toast casserole.

Prepare recipes using the highest-quality, freshest ingredients for the best results.

Give your meal a boost with unexpected but impactful touches, such as specialty butters, homemade jams and delicious cheeses.

Create beautiful and tasty accents for your buffet in minutes with pretty bowls or platters filled with colorful, seasonal fruit.
Easy Brunch Omelet
Makes: 4 portions
Toppings:
mushrooms
chorizo, bacon or ham
cherry tomatoes
spring onions
herbs
Omelet:
8 eggs
8 tablespoons water or milk
salt and pepper to taste
pepper, to taste
2 tablespoons butter
8 slices Jarlsberg Cheese
8 slices ham
Prepare toppings. Fry mushrooms and chorizo, bacon or ham; cut cherry tomatoes and spring onions.
To make the omelet, crack eggs in bowl and add water, salt and pepper. Whisk eggs until they turn a pale yellow color, about 25-35 whisks.
Heat frying pan on medium heat and melt butter. When butter is bubbly, add about one quarter of the egg batter. This will make one of four omelets. When batter starts setting, move hardened parts toward the middle, enabling the rest to get direct heat as well. Use a gentle hand to avoid scrambled eggs. When batter starts to look cooked, add cheese and meat and flip omelet over. The omelet should be slightly golden on fried side and a little runny and soft in the middle.