Notable African American Deaths in 2016
Ralph David Abernathy III. March 17. Son of civil rights activist Dr. Ralph Abernathy. A former Georgia state senator, he died from complications due to colon cancer two days before turning 57.
Colonel Abrams. Nov. 25. R & B and dance music singer who had several hit songs including "Trapped" and "I'm not Gonna Let You." He was 67.
Muhammad Ali. June 3. World-renowned boxing champion and civil rights activist, died of respiratory complications at a Phoenix, Ariz., hospital. Known as "The Greatest," he was 74.
Ernestine Anderson. March 10. Anderson was an American jazz and blues singer with a career that spanned six decades. She was 87.
Prince Be. June 17. His real name was Attrell Cordes, and he was part of the group P.M. Dawn. He was 46.
Howard Bingham. Dec. 15. Bingham was the photographer best known for documenting Muhammad Ali's life. They were also friends. He was 77.
Tony Burton. Feb. 25. Burton played trainer Tony "Duke" Evers in the "Rocky" films. He was 78.
Nicholas Caldwell. Jan. 5. He died at age 71. Caldwell was one of the founders and lead singers of R&B group The Whispers.
Lady Chablis. Sept. 8. She became a gay icon after finding fame in the 1990s through the movie "Midnight in the Garden of Good and Evil." A transgender performer who died at age 59.
Otis Clay. Jan. 8. Clay was a soul singer and Blues Hall of Famer known for the 1960s hit "That's How It Is." He was 73.
Natalie Cole. Dec. 31, 2015. Although the R&B singer died at the end of 2015, her death wasn't reported until Jan. 1. The 65-year-old Cole was a multi-Grammy Award winner.
Daryl Coley. March 15. Coley was a renowned Gospel and Christian singer. He was 60.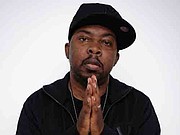 Phife Dawg. March 22. His real name was Malik Taylor, and he was a founding member of rap group A Tribe Called Quest.
Henry English. March 5. President and CEO of the Black United Fund. English, 73, reportedly suffered a heart attack. The Black United Fund, is a non-profit organization that has invested in economic development in Black communities, since 1985.
Tommy Ford. Oct. 12. At age 54, the actor died unexpectedly while recovering from surgery in an Atlanta hospital. Ford was best known as Tommy on the sitcom "Martin."
Ron Glass. Nov. 25. Veteran TV actor Glass died at 71. He was best known on "Barney Miller," "The New Odd Couple" and "Firefly."
Dennis Green. July 21. At age 67, the former NFL coach had a heart attack at his home. He coached the Minnesota Vikings and the Arizona Cardinals.
Herbert Hardesty. Dec. 3 – Hardesty played saxophone and trumpet with Fats Domino, Duke Ellington and Dave Bartholomew, among others. He was 91.
Youree Dell Harris. July 26. She was known as Miss Cleo, the TV psychic. She died of cancer at age 53.
Leon Haywood. April 5. He was an R&B and disco singer, who died in his sleep at age 74.