Winter Weather Warm-Up
1 cup extra-virgin olive oil
1/4 teaspoon sea salt
To make chicken: Heat oven to 450 F.
Wash chicken in hot water. Dry with paper towels.
Using kitchen shears, cut out backbone of chicken and remove any fat (this can be added to chicken stock). Using heavy chef's knife, cut out breastbone. Season halves with sea salt and black pepper.
Place chicken halves, skin side up, on two sizzle platters and dab with olive oil. Cut lemon in half and place 1 half, cut side down, next to chicken on each platter.
Roast chicken 35 minutes, basting every 10 minutes. When done, remove chicken to platter and pour off excess fat. Cut each breast in half and cut the thigh from the leg. Serve with salsa verde (recipe below) and garnish with roasted lemon.
To make salsa verde: Soak capers in cold water 1 hour then drain.
Soak anchovies in cold water 15 minutes then pat dry and remove bones.
Using mortar and pestle, smash capers, anchovies and garlic, until smooth, then transfer to large bowl.
Add all herbs and olive oil.
Season with sea salt.
Pair each serving with Angeline California Rosé of Pinot Noir.
Whole and Hearty
A hearty meat-and-potatoes meal is a sure way to warm up on a cold winter night. This heart-healthy, one-dish meal is made with lean top round beef, lots of vegetables and a spicy herb mixture. Find more healthy main dish ideas at health.gov.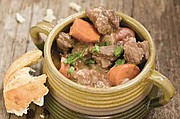 Black Skillet Beef with Greens and Red Potatoes
Recipe courtesy of the USDA
1 pound top round beef
1 tablespoon paprika
1 1/2 teaspoons oregano
1/2 teaspoon chili powder
1/4 teaspoon garlic powder
1/4 teaspoon black pepper
1/8 teaspoon red pepper
1/8 teaspoon dry mustard
nonstick spray
8 red-skinned potatoes, halved
3 cups onion, finely chopped
2 cups beef broth
2 large garlic cloves, minced
2 large carrots, peeled and cut into 2 1/2
inch strips
2 bunches (1/2 pound each) mustard, kale
or turnip greens, stems removed,
coarsely torn
Partially freeze beef. Thinly slice across grain into strips 1/8-inch thick and 3 inches wide. Trim away visible fat.
Combine paprika, oregano, chili powder, garlic powder, black pepper, red pepper and dry mustard. Coat strips of meat with spice mixture.
Spray large, heavy skillet with nonstick spray. Heat pan over high heat.
Add meat; cook, stirring constantly, 5 minutes.
Add potatoes, onion, broth and garlic. Cook over medium heat, covered, 20 minutes.
Stir in carrots; lay greens over top and cook, covered, until carrots are tender, about 15 minutes.
Serve in large serving bowl with crusty bread for dunking.