BLACK CELEBRITIES, ATHLETES SAY "GIVE TRUMP A CHANCE"
By Stacy M. Brown (NNPA Newswire Contributor) | 12/6/2016, 3:48 p.m.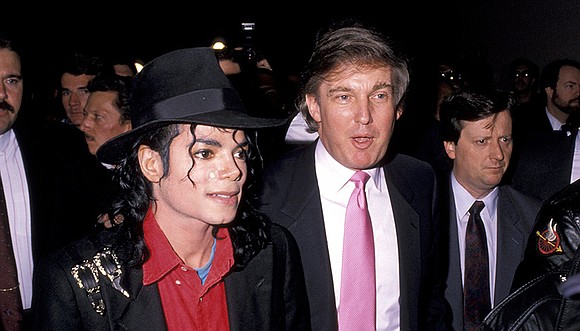 Several prominent African-Americans and celebrities said that they supported President-Elect Donald Trump. Some even voted for him.
Among the more well-known Black celebrities are rap superstar Kanye West and Jackson family patriarch Joseph Jackson.
Now, other popular and respected African-American celebrities, including BET Founder Bob Johnson, are calling on African-Americans to give the controversial New York businessman a chance.
"Trump is a business guy, and I think he's going to tilt towards finding a way to use fiscal policy to move the economy forward," said Johnson, who acknowledged that he voted for Democrat Hillary Clinton.
Johnson, 70, a media magnate, executive, philanthropist and investor, said it's in the best interests of everyone, including African-Americans, to see what Trump has in store.
"Let's give him a shot. Let's give him the benefit of the doubt and see if we can find common ground," Johnson said. "That is what's best for African-Americans."
Jackson, the father of the famed Jackson Five, Janet Jackson and late King of Pop Michael Jackson, said he voted for Trump.
"Many people are rushing to judge a book by its cover. The Trump I know has always been very good to my family," Jackson, 88, said in a statement. "He was a good friend to my son Michael and supported [my daughter] Latoya on her television career. I consider him a friend of the family."
During the campaign, Trump touted his friendship with Michael Jackson, noting that many people spoke about the late singer after his death, but few knew him like he did.
Michael Jackson's older brother, Jermaine, denounced Trump's comments and slammed the President-Elect for using the Michael's name to "help him get elected."
Jermaine Jackson's displeasure did not deter his father's fondness for Trump.
"Regardless of who you voted for, it is important to acknowledge that the next president of the United States is Donald J. Trump," the elder Jackson said. "During the election cycle, I was reminded of the time I quit my two jobs and almost everyone laughed at me and thought of me as a fool who was quitting to go and try to sell music with my family."
Jackson continued: "They said I was mad. I remember digging deep and believing in myself, the rest is history. Trump ran with no support from the establishment and not only won the election, but did so decisively. He deserves respect, recognition and acceptance."
West, the 39-year-old "Life of Pablo" rapper has publicly stated that he will run for president in 2020. And, even though he reportedly donated to Clinton's campaign and the Democratic National Committee, West told a concert audience in California last month that he "would have voted for Trump" had he voted in the election.
West's remarks left some of his peers incredulous.
"That's my brother. I reached out to him and I'm hoping that we just get to talk," said rapper Q-Tip of A Tribe Called Quest. "But, his remarks are something that require he and I having a real discussion."