BEYOND THE RHETORIC: THERE WILL NEVER BE ANOTHER FIDEL CASTRO
By Harry C. Alford (NNPA Newswire Columnist) | 12/6/2016, 1:41 p.m.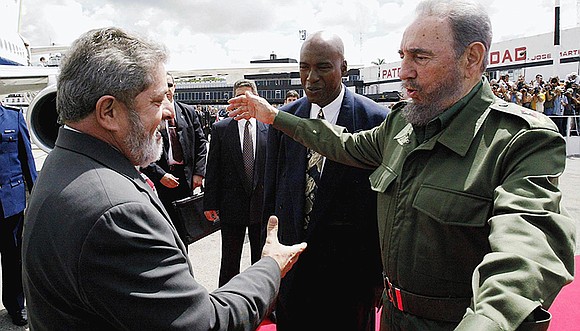 Born on August 13, 1926 out of wedlock on his father's sugarcane farm in the third world nation of Cuba, Fidel Castro grew up to attend and study law at the University of Havana. It wasn't long before he became a radical and soon drifted into the socialist rebellion. He participated in foreign rebellions in the Dominican Republic and Columbia. Courageous, he returned to Cuba to attack a military barracks. That landed him in prison for one year. With his brother Raul and close friend Che Guevara, he journeyed to Mexico to thoroughly form his revolutionary agenda. It was called the 26th of July Movement. Landing by sea from Mexico in 1955, he formed an army and began revolution against the government of Cuba. By 1959, he resistance efforts led to the defeat and removal of dictator Fulgencio Battista. This was the beginning of Fidel Castro, the President of Cuba, which became a socialist government.
It wasn't long before the world considered Cuba to be a Communist state. Fidel was ruthless to his opposition. Thousands faced his firing squads. When he allowed a national election for the country, no opponents stepped forward. The United States considered this too close of a threat and sanctioned through the CIA to assassinate him. Dozens of assassination attempts failed. He became increasingly intolerant. When President John Kennedy became equally intolerant of Castro, Kennedy authorized an invasion made up of Cuban exiles from Florida and CIA agents. The invasion was a miserable failure.
Knowing that the United States managed missiles in Turkey along the Soviet Union border, Castro convinced the Soviets to have payback by placing intercontinental missiles in Cuba, 90 miles from our Florida coast. They both underestimated the resolve of President Kennedy. He demanded their removal and placed an embargo around Cuba. Eventually, the Soviets backed down and removed their missiles. By the way, the U.S. removed their missiles from Turkey as a concession.
This confrontation made Fidel Castro one of the most feared leaders in the world. Through the help of the Soviet Army, the Cuban Army was trained as a fighting force. Castro and Soviet Union's became close allies and Cuba's government was fully converted to a one-party, pro-socialist state under the Communist Party rule. The nation also began relationships with other communist states. Eventually, we would find out that Cuban military forces were going to various Communist-linked third world nations. Soviet leader Khrushchev kicked off the program inviting Castro to Moscow for an official visit. That visit kicked off a 14-city tour. After that, the world witnessed Cuban military in nations like Angola, Grenada, Ethiopia, Somalia, Algeria, Chile, North Vietnam, etc. With Soviet money, Cuba was becoming a militant force in the Third World. Cuba even sent 4,000 troops to Libya to help fight in the Yom Kippur War against Israel. They even brought Viet Cong to Cuba for formal guerilla training.
Soon, this brazen program would end. The Soviet Union was going bankrupt! It formally reorganized itself and changed its name back to Russia and liberated the seized states of the 1940's. It also cut Cuba out of its budget. This was a very crippling blow to Castro's Cuba. The attempted spread of communism via military activity would soon end.