Darren Sharper sentenced to 20 years for drugging and raping two women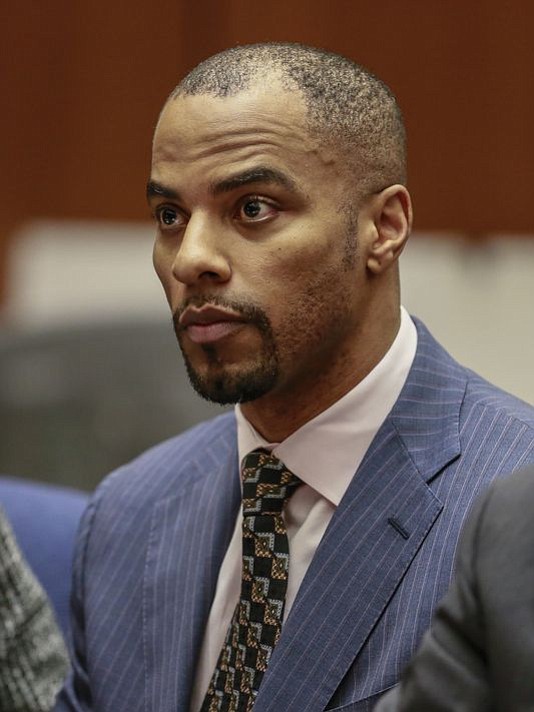 Former pro football safety Darren Sharper was sentenced this week to 20 years in prison for drugging and raping two women he met in a West Hollywood nightclub, completing the legal downfall of the one-time Super Bowl champion and NFL Network analyst.
Los Angeles Superior Court Judge Michael E. Pastor also ordered Sharper to register as a sex offender for life and to submit to HIV/AIDS testing.
The 41-year-old former NFL player—who will have to serve half of the 20-year term—was given credit for 2,017 days already served. His sentence will run concurrently with a roughly 18-year prison term he is already serving for similar crimes in Louisiana, along with prison sentences handed down in Nevada and Arizona.
"While I cannot remember fully what happened, I know that I was raped because the rape kit was positive for Darren Sharper's DNA," one of the victims told the judge. "Because I was drugged by him and incapacitated, I had no ability to consent to sexual contact with him and I did not consent. I can only imagine myself lying there like a vegetable while he took advantage of my body without my permission. What he did to me has left me feeling worthless and as if my life had no meaning."
She said she ended up drinking a shot he offered her in his hotel room after he persisted once she declined, and said she blacked out five or 10 minutes later and did not wake up until 7 or 8 a.m. that morning without being able to remember anything. She told the judge that the only good thing was that "this disgusting lowlife" will be sent to prison for many years.
"Because of the crimes that he has inflicted on me, I hope that this scumbag will now feel as worthless as he made me feel," she said.
Another woman—who said her memory is "black" after she drank a shot and a half that Sharper offered her in his hotel room—said she wondered if her conversation with him about tattoos on her wrist in honor of her sister who was fighting a cancerous brain tumor had stopped him from raping her.
"It's one thing to be a victim, but to be the victim that got `lucky' in some eyes is not easy to live with," she said as she broke down in tears. "Did he try and then see my tattoos? I'll never know, but one thing I know is that I'm not lucky."
After hearing from the two women, the judge said he could not speak more eloquently than they did about the "horrible misconduct of Mr. Sharper and the unfathomable effect it has had" on them.
The judge called it a "disgraceful abuse of trust" by Sharper, who convinced the women to come back to his hotel room after telling them that he needed to pick up something quickly before going to another party.
Sharper pleaded no contest in March 2015 to two counts of rape by the use of a drug and four counts of furnishing a controlled substance in the Los Angeles case. Under the terms of the plea deal, a count of possession of morphine and allegations related to the rape counts were dismissed.