Etta James: Queen of the Blues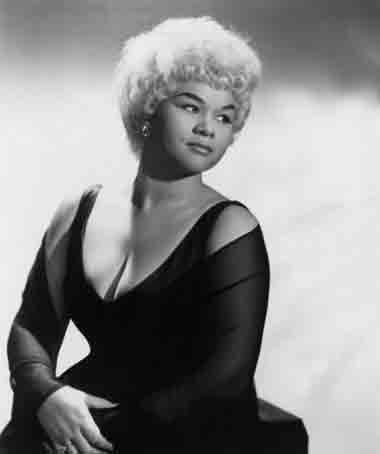 The early 1980s were another dry period for James (she performed for two shows with the Grateful Dead in 1982), but she began to record again and saw "Seven Year Itch" (1988) signal yet another comeback. The album was produced by Barry Beckett of the Muscle Shoals Rhythm Section and it sold respectably with James this time determined to keep her career on track. She began to frequently play live shows and record regularly, issuing the albums "Stickin' to My Guns (1990) and "The Right Time" (1992). The latter album on Electra Records saw James return to her soul roots, but she continued to record more jazz music which, ultimately, became the subject for many of her 1990s albums. She got into the holiday sprit with "An Etta James Christmas" (1998).
Overcoming personal struggles
To a younger generation, James may be best known for her cover of Muddy Waters' "I Just Wanna Make Love to You" used in television commercials for Coca-Cola and for John Smith's Bitter (beer). Her version was a surprise hit in the UK in 1996. During the decade, James was inducted into the Rock and Roll Hall of Fame (1993) and later entered the Blues Hall of Fame (2001). James has been recognized by the Rockabilly Hall of Fame, received a Grammy Lifetime Achievement Award and in 2003 received a star on the Hollywood Walk of Fame.
James struggled with obesity—at one time reaching more than 400 pounds—and experienced mobility problems causing her to often perform in a wheelchair. In 2003 she underwent gastric bypass surgery and in celebration of her svelte figure, released a one of her biggest selling albums, the blues-rock inspired "Let's Roll" (2003). In 2004, Rolling Stone Magazine ranked James No. 62 on their list of the 100 Greatest Artists of All Time. Over the years, James received Grammy Awards for best jazz vocal performance ("Mystery Lady" in 1994), best blues contemporary album ("Let's Roll" in 2003) and best traditional blues album ("Blues to the Bone" in 2004).
In June 2007, James appeared on "The Tavis Smiley Show" and talked about her musical influences, her latest project, and said that of all of her tunes, "At Last" was her most requested song.
"Tavis, I just love music," she said. "If a monkey plays the trombone, I'm there." Her latest album payed tribute to some of her favirite artists including John Lennon, Marvin Gaye and Prince among others. "I knew [The Beatles] and always liked their lyrics. When Marvin was in the Moonglows, we knew he'd be big. 'At Last'...that's by far my most requested song. If I'm in Wal-Mart or somewhere shopping, people will come up and ask 'Are you Etta James? My sister is getting married...can you come and sing?' People see me and they know 'At Last.' Little babies seem to know 'At Last.' I'll always be grateful for that song because people love it."