Etta James: Queen of the Blues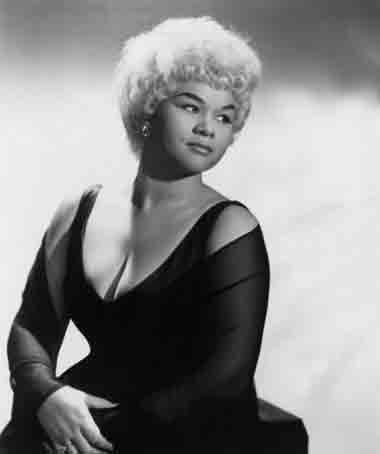 Etta James (1938-2012) was one of the most dynamic singers of a generation. Her natural contralto vocal range would define blues and R&B for female artists for decades.
James, born Jamesetta Hawkins, was a gospel prodigy, gaining early fame singing in local church choirs such as St. Paul Baptist Church. James said years later that her father was legendary pool player Rudolph "Minnesota Fats" Wanderone, and that the family received financial support from him on the condition that they kept his paternity a secret. At age 12, the Hawkins family moved to San Francisco where she became part of a Doo-wop trio that caught the eye of Johnny Otis ("Willie and the Hand Jive"). Otis had the trio audition and they sang an answer to Hank Ballard's hit "Work with Me, Annie" called "Roll with Me Henry." Otis accompanied the trio to Los Angeles to record the song and by then James had left school to pursue a music career. They renamed it "The Wallflower (Dance With Me Henry)" and the 1955 release became a smash on mostly Black-oriented radio stations. Thereafter, James joined Little Richard on tour, revealing years later that it was at this point the she first "...experienced situations to which minors are not usually privy" and allegedly began a drug habit that threatened her career many times over the next five decades.
'The Wallflower (Dance With Me Henry)'
James' follow up to "The Wallflower" was "Good Rockin' Daddy" and she subsequently began touring with fellow Jefferson High School alum Johnny "Guitar" Watson. In 1960 James signed with Chess Records, releasing many duets with then-boyfriend, the married Harvey Fuqua, lead singer of the Moonglows. Their duet "If I Can't Have You" was another hit, and her 1960 release of "All I Could Do Was Cry" became her biggest hit yet. On the advice of legendary producer Leonard Chess, James began recording more pop tunes and released her rendition of "At Last" (1961) which to this day may be the most popular song heard at weddings around the world.
While "At Last" would become James' signature song, she had several other pop hits in the early 1960s including "Trust in Me" and the Gospel-tinged "Somethin's Got a Hold On Me" (1962). In 1963 James got a career boost when she recorded in Nashville the album "Etta Rocks the House" which contained the hit "Pushover." Other hits at this time included "Stop the Wedding," "Fool That I Am" and "Don't Cry Baby." James began to accumulate more Top 10 and Top 20 hits and was classified as one of the pioneers of the "modern blues," being acclaimed to the ranks of B.B. King. However, many critics believe that her substance abuse caused her to slide off the charts until 1967 when she released "Tell Mama" on Cadet Records. The song received huge airplay on stations such as KGFJ AM-1230.
Comeback: 'Tell Mama'
James made the first of several "comebacks" in her career, and followed "Tell Mama" with "Security" and "I'd Rather Go Blind." After the Chess years, James' Top 40 hits began to dwindle as she began recording for several other labels and continued to release albums, such as "Deep In the Night" (1978) on Atlantic Records. Long-time fan Jerry Wexler, Atlantic Records' most celebrated producer, once called James "The greatest of all blues singers." That year, James toured briefly with The Rolling Stones, but by her own account she fell back into drug addiction after becoming involved with "...a man with a habit." Working through the continual turmoil in her personal life, however, James played regularly at club dates until she entered rehab at the Betty Ford Center in 1988.