Emmett Ashford: 'Stee-ee-rike!'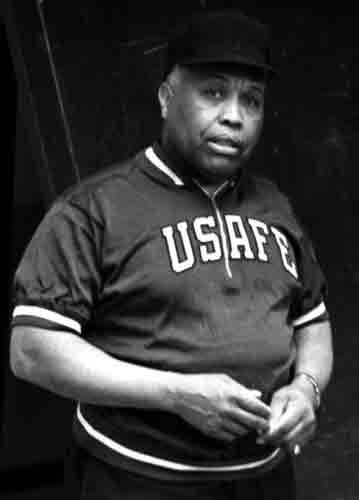 "I've got butterflies," Ashford told the press prior to his debut. "I've waited a long time for a chance to make the major leagues." With Vice President Hubert Humphrey attending the game, an FBI agent grabbed Ashford as he was entering the umpires room. "I told him I was an umpire," Ashford remembered. "He said 'there aren't any Negro umpires in the majors.' So I told him 'there won't be, if you don't let me go.'" Humphrey greeted him after throwing out the ceremonial first pitch.
Ashford stood out from the other umpires. When a fly ball sailed toward foul territory he would race down the baseline to make the call, sometimes speeding by outfielders. If he called you out on strikes, it was a Hollywood production: He'd shoot his hand from his hip, then straight up to the sky before he dropped the hammer, "Stee-ee-rike threee!" On a close play at second, it was not uncommon to see Ashford slide in on his hind foot from a dozen feet away to deliver his famous "punch-out' call. In 1966, the Sporting News wrote: "For the first time in the history of the grand old American game, baseball fans may buy a ticket to watch an umpire perform."
Ambassador of baseball
Ashford worked the 1967 All Star Game at Anaheim Stadium, and was selected among the umpiring crew for the 1970 World Series. He was tabbed to umpire home plate in game six that year, but the Baltimore Orioles beat the Cincinnati Reds in five games. Ashford had reached the American League retirement age of 55 in 1969, but he still umpired one more season in 1970.
During the 1970s Ashford was named the Umpire-In-Chief of the Alaskan Baseball League and in 1971 was hired by Baseball Commissioner Bowie Kuhn as a public relations advisor where he spoke and conducted clinics on the West coast and at places as far as Korea and Japan. He appeared in television commercials, once portraying a cashier in a TV spot for A&P Grocery stores. He played an umpire in the 1976 film "The Bingo Long Traveling All-Stars and Motor Kings," and appeared in episodes of "Ironside," "The Jacksons" and "What's My Line." As early as 1955, Ashford and Groucho Marx traded barbs on "You Bet Your Life."
Clearing home plate for others
Did Ashford endure racial taunts on the field? He certainly did, but he shrugged them off with a customary twinkle in his eye. Rachel Robinson, widow of his old friend, wrote years ago that she had intimate knowledge of the challenges he faced. "At that time in America, the need for social change was intense and still to come. Mr. Ashford carried out the role with great skill, determination and courage, thereby, creating opportunities for others to follow him."
Ashford would lay the groundwork for not only future Black umpires such as Art Williams and Eric Gregg, both deceased, but also in other professional sports including the National Football League and the National Basketball Association which each saw a precipitous increase in officials of color in the 1980s.
"May five-year tenure in the majors was one of satisfaction and gratification at having conquered the biggest challenge of my life, and in some measure, opening the door for Black umpires," Ashford said in 1978. "I feel proud having been an umpire in the big leagues, not because I was the first Black man, but because major league umpires are a very select group of men."