Emmett Ashford: 'Stee-ee-rike!'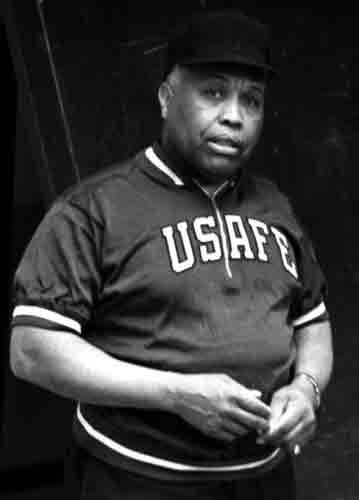 Emmett Ashford (1914-1980) was the first African American umpire in Major League Baseball (MLB). The Jefferson High School graduate broke down racial barriers much the same way as his friend Jackie Robinson.
Ashford, nicknamed "Ash," competed in both baseball and track-and-field in high school, served as co-editor of the Jeffersonian campus newspaper and was the school's first Black class president. He matriculated to Los Angeles and Chapman junior colleges where he continued playing baseball, and by the late 1930s he pursued a brief career in semi-professional baseball spending time with a southland team called the Mystery Nine. One day an umpire failed to arrive for a game and Ashford was thrust into the role of emergency umpire. From there, Ashford quickly became busy with umpiring amateur baseball and softball throughout Southern California and eventually took a full-time job with the Southwestern International League, thereby becoming the first Black umpire in the traditionally White (minor league) baseball system.
A local favorite
Ashford served in the United States Navy during World War II, and while stationed in Corpus Chisti, Texas, he was inspired to become the first Black professional umpire after a radio broadcast announced that Robinson had been signed by the Brooklyn Dodgers. After the Southwestern International League folded in mid season in 1952, Ashford moved to the Western International League (1953) and was promoted to the Pacific Coast League (PCL) in 1954.
"If you watched PCL games or were involved in baseball around L.A., you knew Emmett Ashford," said Mike Port, formerly MLB's vice president of umpiring and a one-time general manager of the [California] Angels. "And if you didn't like Emmett Ashford, you had to be visiting the planet."
Ashford spent 12 seasons in the PCL umpiring games featuring, among others, the Los Angeles Angels (Wrigley Field in South Los Angeles), Hollywood Stars (Gillmore Field in the Fairfax District), the San Diego Padres and San Francisco Seals. He became known for his exuberance, enthusiasm and showmanship, frequently interacting with the crowd between innings. During the off season, Ashford would referee Pac-8 basketball games, college football, traveled to the Caribbean winter leagues, and ran several umpiring training clinics. In 1963, he became the PCL Umpire-In-Chief, making him responsible for training crews and advising the league on disputed rules.
Calling 'em as he saw 'em
By the early 1960s, many West Coast sportswriters such as A.S. "Doc" Young and Brad Pye Jr. began to suggest that Ashford be promoted to the major leagues. It finally happened on opening day, April 11, 1966 when the Washington Senators hosted the Cleveland Indians at D.C. Stadium. At age 51, Ashford proved that homeplate was his stage and baseball was his love. He umpired with a flourish incorporating flashy jewelry, French cuffs and cuff links, high-polished shoes and freshly-pressed uniforms. While some observers believed that his race may have prevented him from working in the majors earlier than he did, others maintained that his flashy style actually delayed his arrival because of the general disdain for umpires drawing attention to themselves.