Community talks about how to combat violence in L.A.
Elected officials listen to ideas
8/4/2016, midnight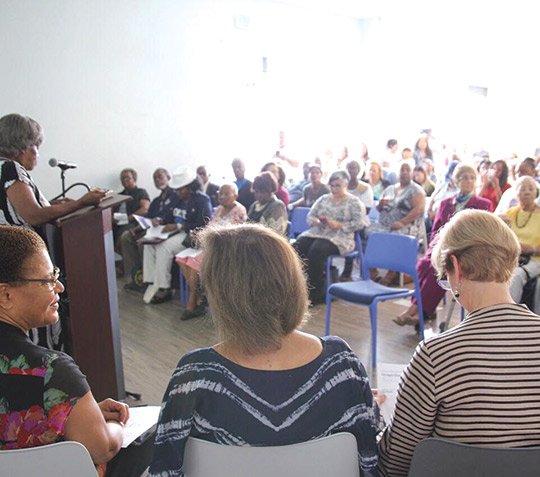 The people mentioned at a townhall on violence held July 30 at the Community Coalition, (CoCo) in South Los Angeles represented both individual family tragedies and staggering community losses. There was Laura, a stay-at-home mother of five who wanted nothing more than to be a mom and take care of her family.
She was killed in 2007 in a drive-by shooting in the Pueblo Del Rio housing project.
Two years ago, former youth leader Timothy Hines witnessed the death of a man who was repeatedly shot after he fell to the ground. What he saw inspired Hines to get involved.
This year, the 360 murders in Los Angeles County are on pace to reach last year's total of more than 600 killed according to officials at the townhall, which was held near Manchester Boulevard and Vermont Avenue, also known as "death alley".
The story is no different for Chicago, according to Rep. Robin Kelly, chair of the Congressional Black Congress Health Braintrust who joined local Reps. Karen Bass, Janice Hahn, and Assemblyman Reginald Jones-Sawyer, School Board Member George McKenna, along with representatives from Eighth District Councilman Marqueece Harris-Dawson. Kelly estimates that Chicago is on track for 700 murders this year.
The elected officials and representatives from community-based organizations such as the Southern California Cease Fire Committee joined more than 100 members of the community who listened to suggestions about how to curb the violence happening in the community.
Rep. Kelly echoed the calls from a number of those in attendance that communities like South Los Angeles and the areas she represents in Chicago, need resources, particularly jobs and job training. This needs to be coupled with an effort to focus on strengthening local hiring efforts, added another attendee.

Among the other resources community members said they need to combat the situation is an ability for substantial funding to flow down to grassroots organizations. Such groups do what one former gang member Roosevelt Telles does without pay; he rides his bike throughout the region insuring that the public can safely pass.
One individual also suggested that people of color join the National Rifle Association so that they can influence the gun lobby to urge lawmakers to push for gun laws that focus on getting weapons out of the hands that should not have them.
Denise Lamont, a local social worker, suggested a one-stop location that will make it easier for foster families to avail themselves of the various programs available.
Another suggestion from the Ceasefire Committee was for officials not to forget about girls, who are joining gangs at ever-increasing rates.
A number of individuals suggested that combating violence should be viewed as a public health issue.
Another resident said that the police need better training on customer service, which would go a long way toward easing the sometimes antagonistic attitude between some community members and law enforcement.
Another sentiment expressed at the town hall was a need for African Americans to be more accountable for the violence happening.
Alberto Retana, Community Coalition president and CEO, wants to see conversations held at the local level elevated to a national level. He too, pushed for the effort to insure that funding flows to community organizations at the grassroots level.