Augustus F. Hawkins: 'Silent Warrior'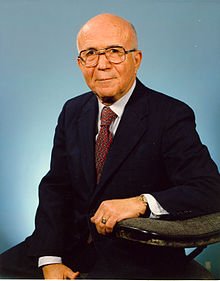 Augustus F. Hawkins (1907-2007) had a political career that spanned more than 56 years serving in both the California Assembly and U.S. House of Representatives. A graduate of Jefferson High School and UCLA, Hawkins was the first Black person west of the Mississippi to be elected to Congress. Over the years Hawkins guided countless pieces of legislation aimed at improving the lives of minorities and the urban poor.
Hawkins traditionally worked behind the scenes to accomplish his legislative goals, and was known by his colleagues in the Congressional Black Caucus (CBC) as the "Silent Warrior." He earned the respect of Black leaders in both the public and private sectors because of his determination to tackle social issues like unemployment, and his commitment to securing equal educational opportunities for impoverished Americans. One of his most famous quotes was, "The leadership belongs not to the loudest, not to those who beat the drums or blow the trumpets, but to those who day in and day out, in all seasons, work for the practical realization of a better world—those who have the stamina to persist and remain dedicated."
Original 'New Dealer'
During the Great Depression, Hawkins and his brother briefly operated a real estate company by day, and at night he studied government at the University of California Institute of Government. He was an original "New Dealer," enthusiastically supporting Franklin D. Roosevelt's 1932 presidential bid as well as the 1934 California gubernatorial campaign of author Upton Sinclair ("The Jungle"). Hawkins soon converted his political awareness into a career by defeating veteran Republican Frederick Roberts to earn a seat in the California Assembly, an ironic victory because he criticized Roberts for remaining in the Assembly too long, but he would become known for his own longevity in Sacramento (1935-1963).
In the Assembly, Hawkins compiled a substantial legislative record centered on the interests of his predominantly Black South Los Angeles district. He introduced a fair housing act, a fair employment practices act, legislation for low-cost housing and disability insurance, and provisions for workmen's compensation for domestics. After losing a 1958 bid to become Assembly Speaker, Hawkns set his sights on Washington, D.C. "I felt as a congressman, I could do a more effective job than in the [state] Assembly," he said.
In 1962 a new majority-Black congressional district was carved out in South Los Angeles. Hawkins won the seat, partly with the endorsement of President John F. Kennedy, and mostly because new political representation had arrived for Black Angelenos (e.g. the appointment of Gilbert W. Lindsay as councilman of the newly-created Ninth District, victories by Billy Mills and Tom Bradley in the Eighth and 10th districts respectively). Hawkins defeated Black Republican Herman Smith in a landslide.
Fighting for education, labor
On Capitol Hill, Hawkins championed many of the causes he promoted in Sacramento. He initially sat on the Education and Labor Committee and 20 years later he would become its chairman. The intervening years saw him wield considerable authority over issues relating to education and employment in impoverished communities. In 1965, Hawkins was thrust into the political spotlight by the Watts Riots, challenging his fellow lawmakers to help his constituents, saying, "The trouble is that nothing has ever been done to solve the long-range underlying problems" in describing the rioting as an expression of desperation, partially due to the absence of long-promised federal anti-poverty funds (rejected by Mayor Sam Yorty), but he did not condone the violence. "We need clearer thinking and fewer exhibitionists in the Civil Rights Movement," he said.