Student Athlete of the Week
L.A. High's Justin Haasan Rogers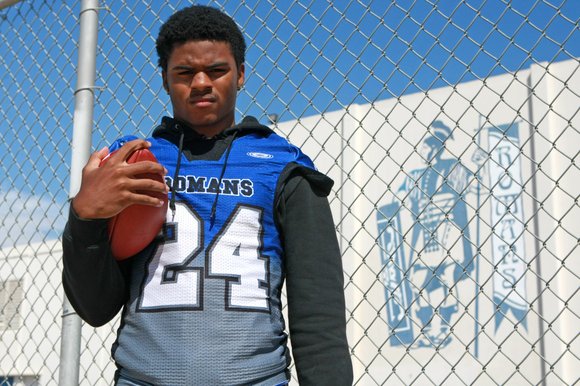 "I'm a lockdown corner," Rogers said. "A lot of these guys are zone corners, and they play within their defense, which is fine, but I'm a one-on-one guy. I can play zone too, but I like to handle them on my own."
"Growing up playing football, I built the confidence to be able to know that I'm going to dominate whoever is in front of me," Rogers continued. "I'm going to put the team on my back, so if you're going to throw to the him (the receiver), I'm going to win every time."
Rogers puts in a lot of practice time on the field, and the key his success is repetition in practice. He also weight trains at 24 Hour Fitness, focusing on developing his explosive power.
"Being a corner, you're always bending," Rogers said. "You need your lower body to do well in any sport, so we focus on squats, jumping, a lot of plyometrics, box jumps, footwork, and running stairs."
It also helps that Rogers comes from an athletic family. His father played basketball for Long Beach State, and his mother also played basketball. His older brother, who is heading to UNLV, followed their parent's footsteps in basketball, but Rogers likes football more.

Rogers has appreciated the presence of his father while he competes.
"He was always my coach, at every game telling me what to practice on," Rogers said. "I was glad to have my father at all of my games."
While Rogers believes that he is a better athlete than his older brother, he's not so sure that he is better than his father.
"I heard that he could jump. I'm not jumping like he was," Rogers said. "I heard that he was doing all kind of dunks. I can barely rim graze it up in there. I heard that he was dribbling in between the legs and all of that."
Rogers will have some more time to catch up with his father, because his athletic career will continue at the University of Texas at El Paso, also known as UTEP. His accomplishments on the field in high school helped him achieve this goal, and his 3.6 grade point average has made him a very attractive prospect. Rogers was always a good student, but it was not until high school that he decided to take his abilities to a higher level.
"I was always a good student in terms of classroom presence, and speaking, and being a leader," Rogers said. "But I just didn't do homework. I'd always ace the test, but never do the homework. So I'd end up with mediocre grades. During the first semester of my sophomore year, I realized that I wanted to do better. I knew that I wanted to go to college playing sports."
Time management can be difficult for a student athlete, but Rogers finds ways to get his work done.
"I get it done by any means possible," Rogers said. "Getting it done at school or at home, but what I focus on is taking the time to do it. Normally kids my age are distracted by a bunch of things, like TV, social media, and friends. But I realized that it doesn't take me that long to do things. I realized that I'm going to be going to college, and I'm not going to have somebody in my ear, telling me to do my homework. So I chose to improve my study habits. After that, I really excelled at school."