Student Athlete of the Week
L.A. High's Justin Haasan Rogers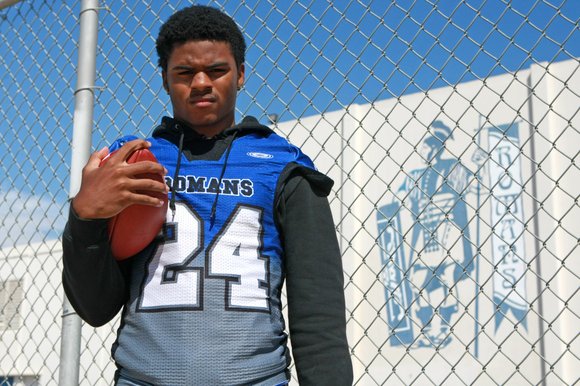 Justin Haasan Rogers has always been a winner, but he just needed to land at the right program where he could shine. Los Angeles High School has become that perfect landing spot, thanks to his abilities and the school's resurgence which have helped make him a champion.
Rogers started playing football at six years old, playing flag and then tackle football in Long Beach. He played his first two high school seasons at Long Beach Cabrillo High School, but it was not until his junior year, when he transferred to Los Angeles High School, that he finally found himself on a successful team. That success ended with a Division III City Section championship.
"That might have been my first winning season, so it was a great experience," Rogers said. "I was always on teams that were around 5 and 5, or 6 and 4. I was always on mediocre teams."
Rogers was always one of the best players on his teams growing up. He won his team's MVP award a number of times, and was named to the all-star game every year. He was always faster than most of his opponents, so he used his speed to run by them.

During Rogers' sophomore year, he was elevated to the varsity team, even though he was smaller than many of the players on the team. His ability to make tackles led him to playing strong safety, even though he did not have the natural size to play the position.
"I'm not a super big fan of contact but by my second or third year of Pop Warner, I figured out that I could tackle people no matter how big they are, if I tackle them right," Rogers said. "If you want to take somebody down, you'll take them down."
Rogers was excelling on average teams, but Los Angeles High Coach Eric Scott changed all of that.
"I'm glad that I came here under Coach Eric Scott," Rogers said. "He taught me a lot about what differentiates a good player from a great player. The difference is practice. Repetition is definitely the key to what we do here."
At Los Angeles, Rogers played wide receiver and cornerback, and used his speed to become a dominant player. As a junior, he was named to the Division III All-City team as a defensive back, and as a senior he was named to the Division II All-City team as a wide receiver.

During his time at Los Angeles, Rogers was on the City championship team during his junior year, and this past season, his team made it to the Division II championship game.

As a receiver, Rogers was able to beat defenders multiple ways.
"I can catch the ball anywhere," Rogers said. "What we do here is stress route running, and my route running is really good. So I could get open anywhere on the field. But watching my highlights, I was a deep threat, I was just running by everybody."
As a defensive back, Rogers is used to being out on an island by himself with receivers.