Is South LA arms merchant an asset to the community?
A recent court decision highlights the pros and cons of Botach Tactical in Leimert Park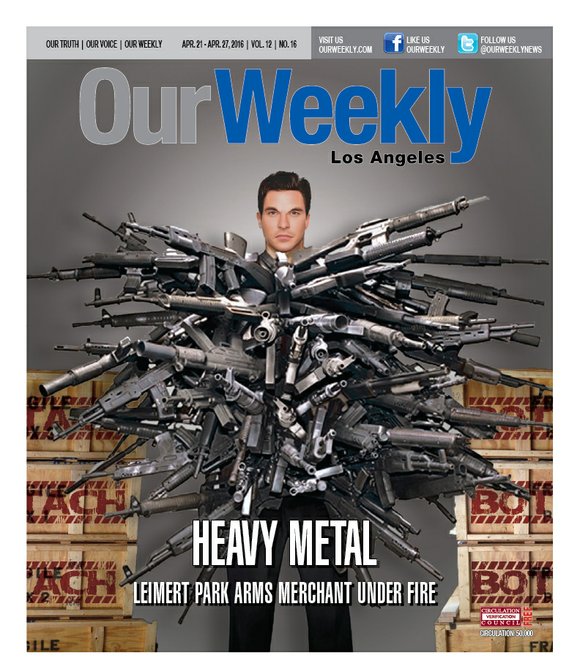 Among the many yarns of folklore traversing the annals of South L.A. are the misadventures of street hoodlum extraordinaire Ronald Washington (AKA "Muscle Beach" as an homage to his chiseled physique), who stepped into the big time, when he engineered the heist of an old Wells Fargo at 3423 W. 43rd Place in Leimert Park. He walked into the bank brandishing a pistol, and absconded with some $60,000 on the back of a motorcycle. Although he was summarily apprehended and given 15 years in the big house, he earned himself a spot in the pantheon of South Central's Dirty Deeds.
As for Wells Fargo, they survived this financial set back, and continue to prosper as one of the nation's leading financial companies.
In 1992, the building itself was sold to a pair of newly expatriated siblings from Iran, who operated a pawn shop for several years before going into the firearms retail trade, doing business as Botach Tactical Arms (officially owned by Barkochba Botach, informally known as "B.K."). Its website promotes the business as "your one stop cop shop," as a supplier of military and tactical paraphernalia to the law enforcement community, with the former bank vault serving as a secure depository for weapons and armaments.
Jackie Ryan, proprietor of Zambezi Bazaar, a retail gift shop, has had only positive interactions with B.K., in spite of his unique line of commerce.
"He is in compliance with the laws of the city of Los Angeles," she notes.
As part of the community, she regularly mingles with other store owners who have become tenants of Botach as he has expanded his holdings around Leimert Park.
"They don't consider him a bad landlord," she states, alluding to his reputation for reasonable rents and upkeep of his properties.
A question of legality
Botach Tactical made it into the press headlines again recently, when the Los Angeles City Attorney successfully convicted them of illegally selling firearms with high capacity magazines (holding 17 rounds each) to a security guard who did not have the proper credentials as a peace officer. This individual allegedly acted as a "straw purchaser" for an acquaintance, who then used it the gun in the commission of a homicide.
Straw purchases occur when persons buy a good or service for other individuals who are unable/unwilling to make that purchase for themselves. This scenario came up in the aftermath of Dec. 2015 San Bernardino shootings, in which a friend of the perpetrators who carried out the actual crimes initially purchased the assault rifles used to kill 14 people and injure 22. In that situation, the question of the legal transfer of the weaponry is being debated.
The Botach family patriarch, Yoav, is considered one of the state's wealthiest men, to the tune of several hundreds of millions of dollars, a standing brought to light during the course of a messy 2006 palimony suit by his wife, Judith Boteach (the family changed its spelling for practical purposes, a common practice among immigrants to America) which revealed his ownership of some 140 properties in L.A. County alone. The family includes a prominent Rabbi on the Westside, and kinship ties to AEY Inc., another provocative arms company in Miami, Fla., with alleged ties to (possibly) underhanded munitions transactions with the U.S. Army and other military entities (including providing substandard ammunition during the ongoing debacle in Afghanistan) around the world.