FOLLOW THE MONEY: Minority Vendors raise questions on government spending on ADs
By Stacy M. Brown (NNPA News Wire Contributing Writer) | 4/14/2016, 11:32 a.m.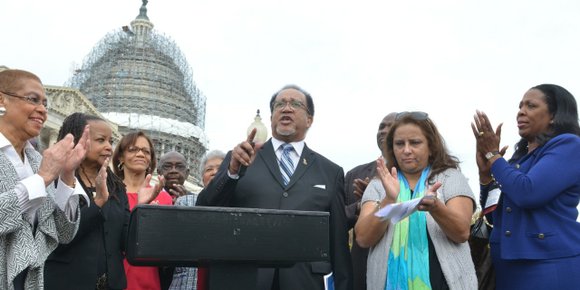 The federal government spends about $1 billion on advertising services, but history continues to show that small businesses and local and minority-owned media companies are mostly left out.
On Wednesday, March 23, as part of its ongoing series on Supplier Diversity, the FCC's Office of Communications Business Opportunities hosted a roundtable discussion on diversity and government advertising practices.
Moderated by Thomas Reed, the director of the FCC's Office of Communications Business Opportunities, the event also included commentary from James Winston, the president of the National Association of Black Owned Broadcasters, Melody Spann Cooper, Steve Roberts, Sherman Kizart, and other experts from the broadcasting industry who examined the federal government's interaction with diverse communities and how current advertising practices reach those same communities.
"We wanted to have a more laser-like focus on federal advertising. The congressional research service has found in recent years the federal government spends close to $1 billion annually on advertising services," Reed said in opening the roundtable discussion.
"The focus of the meeting is an examination of how, where, and in many instances, why this money, these dollars, are being spent and how we might begin to expand the pool of vendors who assist the government and getting out the message," he said.
While public documents reveal who is spending the money, they don't always reveal who is on the receiving end of those contracts, Reed added.
"Experience tells us that local media, small companies, women and minority-owned media are not well-represented," he said.
The meeting was viewed as a critical beginning step in minority-owned media being considered when the federal government and its agencies seek to advertise.
Earlier this month, leaders from the National Newspaper Publishers Association and the National Association of Hispanic Publications – which combined publish more than 600 newspapers to over 30 million readers – were joined by D.C. Rep. Eleanor Holmes Norton in calling for an examination of government advertising practices.
It's widely understood that government advertising covers a variety of subjects, Reed said, noting public service announcements, federal job openings, competition for federal contracts, and even the sale of surplus government property.
He said federal agencies use numerous platforms to educate the public about their core services including using television, radio, and now, increasingly, social media outlets like Facebook and Twitter.
However, the lack of advertising by federal agencies in Black media can be felt in radio as well, Winston said.
"We find ourselves very challenged to maintain the success of our existing stations. Your success depends on getting advertising dollars and, in 2012, the Congressional Research Service did a report that at the time showed that the federal government agencies were spending about $500 million a year on commercial advertising," Winston said. "That number is now closer to $1 billion and the report showed that the largest commercial advertiser in the federal government is the Department of Defense. And, so we've found that a great deal of money is being spent but there's very little information about where that money is going."