More sickle cell patients survive, but care is hard to find for adults
By Erin N. Marcus California Healthline | 4/7/2016, 1:37 p.m.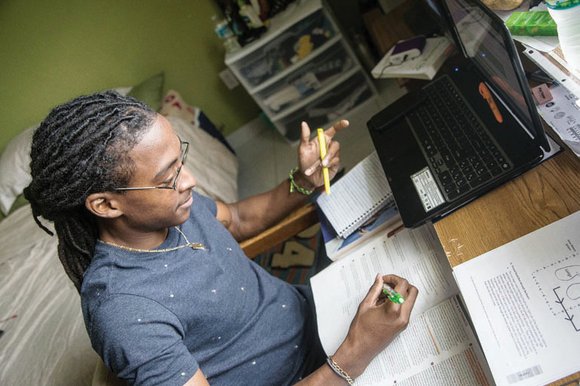 Pain is a hallmark of sickle cell disease, which is caused by abnormal hemoglobin, the protein that allows red blood cells to carry oxygen to the body's tissues. Under certain conditions, these affected red blood cells lose their characteristic disk shape and morph into rigid crescents, clogging up small blood vessels and disrupting the flow of blood. Nearly a third of adults with sickle cell disease experience pain, often moderately or severely intense, almost every day, and opiates are an important part of managing the condition. Often, physicians and nurses are skeptical of adult sickle cell patients' motives in asking for pain medication, even though narcotic addiction is no more common in people with sickle cell disease than in the general population.
"There is no disease bigger than sickle cell in terms of bias and disrespect," said Dr. Mary Catherine Beach, a professor of medicine at Johns Hopkins. "Many clinicians dislike taking care of people with sickle cell disease because of issues around pain management. When you add in race, it's a perfect storm."
Silent strokes, which do not cause any obvious sign of injury, also complicate the transition to adult care for some patients. They occur in more than one in five people with sickle cell by the late teen years. These strokes can lead to problems with understanding and decision making, preventing effective navigation of a confusing adult health system.
"In pediatrics, if you miss your appointment, a nurse will call, or someone might even go to your house," said Dr. Charles Quinn, a pediatric hematologist at Cincinnati Children's Hospital. "In adult medicine, if you miss your appointment, you're on your own. It's an entirely different system of health care delivery that happens abruptly."
Easing the transition
One strategy to improve care is for children with sickle cell to see a family medicine or a med-peds physician, who can provide care for them from birth through their adult years. Family medicine specialists complete a three-year residency after medical school that includes rotations in obstetrics and gynecology, surgery, geriatrics, psychiatry and medicine and pediatrics. Med-peds physicians complete both a pediatrics residency and an internal medicine residency, and most take separate exams to become board-certified in both fields.
But there is a shortage of primary care physicians generally, and fewer than 400 doctors graduate from med-peds residencies every year, according to Dr. Niraj Sharma, who directs the Harvard Brigham and Women's/Children's Hospital Boston Med-Peds Residency.
Instead, he said, all pediatricians should start to discuss the transition, including educating their patients with chronic conditions about their illness, at age 12.
One obstacle to smooth transfers has traditionally been physician reimbursement, said Dr. Patience White, co-director of GotTransition.org, a federally funded center that aims to improve the transition process. Her group has been working with medical professional societies to propose a new billing code that would allow internists to be paid for the work of communicating with pediatricians and reviewing extensive medical records as patients transition.
Another barrier for adults has been primary care providers' lack of familiarity with routine management of the condition. In addition to their discomfort prescribing narcotics, nonspecialists often aren't comfortable administering hydroxyurea, a medication that has been shown to reduce painful crises and save lives in patients with sickle cell.
A team of experts at Johns Hopkins Medical Center, led by Dr. Rosalyn Stewart and Dr. John J. Strouse, seeks to deal with such problems by helping doctors improve their knowledge of sickle cell through a weekly video conference program.
On another front, Coretta Jenerette, an associate professor of nursing at the University of North Carolina at Chapel Hill, works with patients to help them explain their symptoms so that medical professionals can better understand what they need. "When you come to adult care, there's an expectation that you're able to give your history and the reason you are seeking care yourself."
Burgess, now 28, finally found an adult specialist who stabilized his sickle cell, enabling him to complete a college nursing degree. "There are a few nurses who made an impact on my life, and I'd like to add to that," he said. "I have a need to help, and I feel like I can do it."