Across Black America week of Sept. 24
Compiled by Carol Ozemhoya. | 9/24/2015, 11:32 a.m.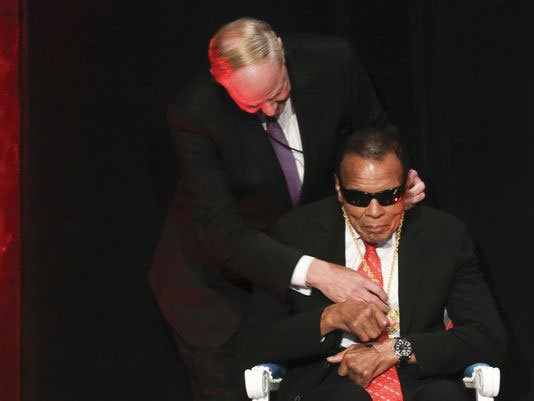 California
At least one Stockton police officer has been placed on administrative leave after allegedly striking a teenager for refusing to move off a street. A video has surfaced showing a Black teen being struck by the officer with his baton during a struggle that ensued after the 16 year old refused to comply with the police officer's request. On the video, the policeman can be heard telling the teen to stop resisting before the cop strikes him with both ends of the baton. Right after the officer is seen trying to control the young man, several other officers show up and all work to wrestle the teen to the ground, cuff and arrest him. The teen was cited for jaywalking and released to his mother. He was reportedly unhurt.
Kentucky
The legendary Muhammad Ali was honored last week with the first-ever Grawemeyer Spirit Award by the University of Louisville. The 73-year-old former boxing champ continues to battle Parkinson's Disease, but he did attend the presentation, although he did not speak. Louisville is his hometown. His popularity remains in full effect; the crowd in attendance chanted "Ali, Ali, Ali" as he entered the room. His wife, Lonnie, spoke for the former pugilist. "In accepting this award, we are reminded that Muhammad's life continues to inspire generations of people to discover and cultivate their own path to greatness and to use their talents and successes to empower others in communities all over the world," she said.
Maryland
A Baltimore teen has been charged with attempted murder after taking part in a brawl in a cafeteria. A video of the fight shows the teen repeatedly punching his football teammate in the face and then stomping on his head when the victim fell to the floor. Once the fight was cleared, the victim was on the floor having a seizure while lying in a pool of his own blood. He was hospitalized and required surgery. The video of the fight went viral within hours. The 17-year-old allegedly responsible for the attack has been denied bail. His attorney believes the charges would be less, if the video hadn't gone viral.
Massachusetts
A Boston transit police officer has been put on administrative duty after video surfaced that appears to show him repeatedly striking a woman. According to the Boston Globe, the video shows the cop raising his baton and hitting the woman aboard a MBTA bus. He allegedly pushes her into a seat, but then as he walks away, she reportedly lunges at him. Transit police say that the officer approached the woman after a vendor at a stop pointed her out as having stolen an item. Allegedly, the woman threw rubbing alcohol in the officer's face when he tried to talk to her. The person who recorded the video said the officer did not try to diffuse the situation. "He ran up to her and started barking in her face," the witness said. "He didn't do anything to de-escalate the situation or calm her down. He escalated the situation."