County, cities prepare for latest El Nino; storm could be one of biggest in history
Tips to keep you and family safe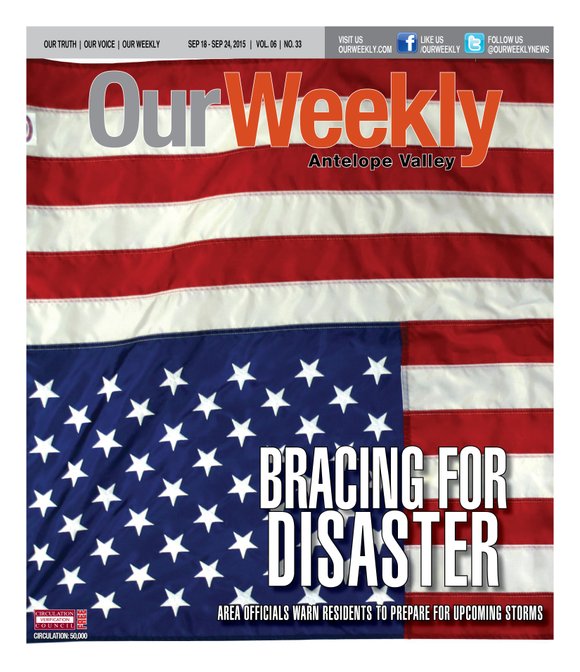 Practically every part of Southern California is prone to a natural disaster. Earthquakes aside, raging brush fires, devastating high surf, mud slides and, in the upper elevations, powerful snow storms can bring daily life to a sudden halt. The newest fear stems from the impending El Nino set to strike sometime in early January. And while the rain will bring welcome relief to the on-going drought, there is a strong possibility that there will be severe flooding, particularly in parts of the High Desert.
Palmdale plans early
The news about the impending El Nino has many communities reviewing their emergency preparedness plans because of the danger of flooding, slides, road closures, downed powerlines, etc. People residing in the hills and foothills may be especially at risk of flash floods because of the lack of watershed which has steadily burned away during the series of wildfires this summer. The city of Palmdale is trying to get ahead of the potential calamities by presenting a free presentation at 7 p.m. Sept. 23 at the city council chambers, 38300 Sierra Highway, Suite B. Officials from the Los Angeles County Fire Department, the Sheriff's department and the American Red Cross will discuss ways that each household can brave the heavy storms—and instruct people how to prepare for most known emergencies—at a time when most residents may believe they can forsake preparing for heavy storms because of four years of extra-dry weather.
"Being properly prepared for an emergency is important and a must for all residents," said Kery German, Palmdale crime prevention officer. She said the daily essentials like food and water, heat and electricity, communication and transportation may be interrupted for days, and without preparing for an emergency, delay can make a difficult time even worse.
"Imagine that you have no electricity, no gas and no water?" she said. "Imagine that all of the businesses are closed; the grocery market has nothing left on the shelves. In a major disaster, it may be several days before help arrives. Do you and your family have enough necessities, if you're instructed to 'shelter in place' for a minimum of three days?"
Antonovich orders report
Los Angeles County Mayor Michael Antonovich and Supervisor Hilda Solis last month ordered an "El Nino Preparedness Report" which calls on departments to report back on the county's plan to prepare, respond to and recover from the expected heavy storm system. The board wants to know the status or capacity at the county's flood control facilities and what plans may exist for maximizing storm water capture and retention. They also want to make good use of the expected bounty of fresh water, with a portion of the motion stating: "... it is critical that the county assess its risks and vulnerabilities and prepare for emergency response. The county should also strategize on the best way to capture and reuse the vast amounts of stormwater that will otherwise flow down into sewers and concrete rivers to the sea."
The National Oceanic and Atmospheric Administration (NOAA) Climate Prediction Center announced this summer that there is greater than a 90-percent chance that El Nino will hit next winter and will mostly likely last well into the spring. NOAA predicted that this El Nino—coined by some forecasters as a "Godzilla El Nino"—could easily rival the intensity of the record 1997 event that resulted in 17 deaths and caused more than a half-billion dollars in damage throughout the state. Remnants of Hurricane Delores earlier this summer caused mudslides, flash floods, and a Riverside County bridge collapse.