Community forms a united front to combat Black violence
Critics of the Black Lives Matter movement have asked, 'what about Black-on-Black crime?'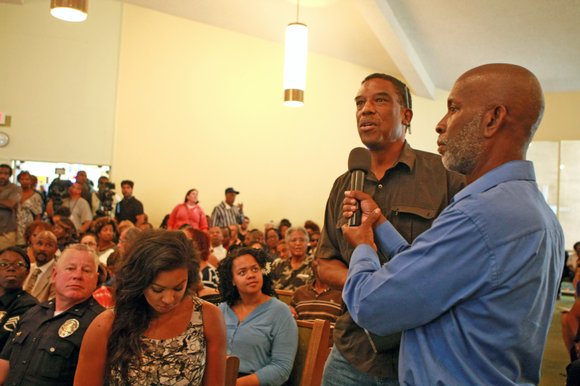 Police brutality has been one of the hot-button issues that has captured the nation's attention over the past year, and has been heavily covered by television, radio, newspaper, and internet media outlets.
As the Black Lives Matter movement continues to sweep the nation shedding light on police brutality, many opponents of the movement have begun to fire back with a singular question: What about Black-on-Black crime? They have questioned why Black people have put so much energy into fighting police brutality, but not violence in Black communities.
Well recently, a few hundred people, mostly Black, packed the Hamilton United Methodist Church in South Los Angeles for an emergency meeting to discuss the recent surge in street violence in the Black communities of the city.
The standing-room only crowd of local residents, activists, community service workers, gang prevention and intervetion specialists, LAPD officers and local politicians formed a united front to offer a clear message that the violence needs to stop.
This emergency meeting was hosted Sunday by Los Angeles City Councilmember Marqueece Harris-Dawson in partnership with Councilmember Curren Price. Rep. Karen Bass was also on hand as people took to the microphone to voice their anger and concern over the violence that is leaving young Black people dead in the streets, mostly at the hands of other Black youth.
Are Black people caught up in the police brutality issue while ignoring Black-on-Black crime? Based on the meeting, that does not appear to be the case, even though what the media portrays would say otherwise.
Street violence within the Black community has been addressed for decades through community-based gang prevention and intervention programs.
The prevention component consists of after- school tutoring, mentoring, sports, and other programs that are designed to occupy children's time so that they do not turn to gangs as a surrogate family.
Gang intervention organizations intervene when conflicts between gangs occur. They work with individuals who chose to participate in the gang culture, and they help mend conflicts among people who are already engaged in gang activity.
Many people in the Black community take on the task of combating Black-on-Black crime on a daily basis, but the media chooses to highlight juicier stories, such as the police brutality issue, which in large part is presented as a White vs. Black issue. A race issue garners more interest from the general public, and drives television ratings. Observers often note that when the media does cover an event in the Black community, it is typically something negative.
"What's tricky is, over time, a gang interventionist prevents a shooting, but you don't hear about it," Harris-Dawson said."You only hear about the shootings that did happen."
There are many positive stories in the Black community, but those stories typically do not make the airwaves and are often replaced in favor of articles that revolve around violence. The perception of Black America has been shaped by the media to some degree with the attention that has been put on Black crime, even though there is a criminal element in every race.