Ben Carson brings 'outsider' status to packed GOP presidential field
Joins Trump as Iowa frontrunner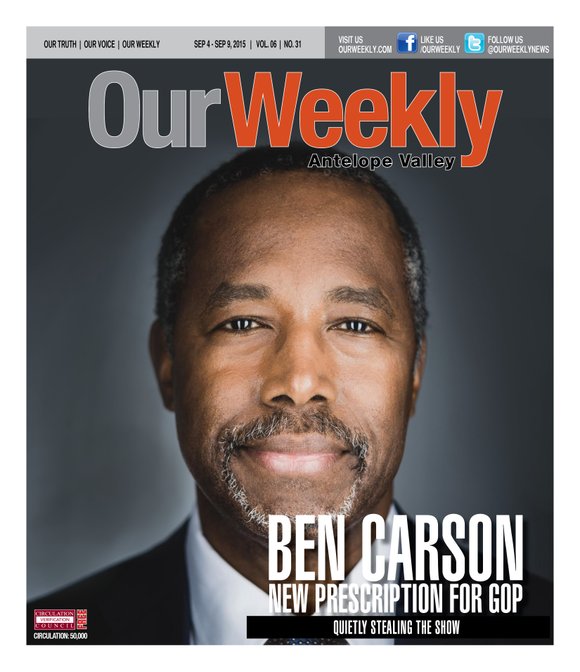 Ben Carson is definitely an "outsider." He's never run for public office. He is not a "Beltway insider" nor a career politician. There are few, if any, known lobbyists or big business interests pulling his strings. Within the ranks of the GOP, he does not fit within any prescribed characterization or historic image so familiar to American voters.
And now he's leading the pack—at least in Iowa. A recent poll conducted by Monmouth University finds Carson and Donald Trump tied for the lead among likely Republican voters who will caucus five months from now to gather delegates in hopes of replacing a Democrat in the White House. The poll asked Iowa Republicans who they would support in their local caucus, and Carson and Trump each garnered 23 percent of favorable responses. These numbers are far ahead of the next tier of candidates led by Carly Fiorina at 10 percent; no other GOP candidate in Iowa reached double digits in the poll.
The 'other' conservative
It has been an amazing race for Carson, 63, the retired neurosurgeon with the soft voice and calming demeanor. He has vaulted 15 points in just one month in the Hawkeye State; a majority of Iowa Republicans—56 percent—say they prefer a White House nominee with no political pedigree. Well, that's Carson to a tee. And although 30 percent of those polled reportedly say they are "locked in" with Trump (compared with 22 percent for Carson), the noted author and recipient of the Presidential Medal of Freedom leads Trump 25 percent to 16 percent among those likely voters whose choice on Caucus day would reflect a simple "toss up" decision. These persons represent the still undecided Republican voters who could easily select Carson once they step into the voting booth on Feb. 1, 2016. A victory in Iowa could establish Carson as the front-runner in the following two weeks as New Hampshire and South Carolina host their respective primaries.
"We are clearly happy with the survey because it tracks with the enthusiasm that we see as Dr. Carson gathers huge crowds across the country," said Deana Bass, Carson's press secretary. "This campaign is a marathon, so we'll continue working hard and reaching out with a grass roots campaign because Dr. Carson knows what's at stake ... our children's future."
Some political pundits believe that Carson's appeal stems in part from his devout, conservative principles, but mostly because he's never been part of a contact sport like politics. Shortly after announcing his candidacy in May, Carson said that because family, friends and supporters kept "pushing" him into politics, "I just said 'Lord, if you want me to do it, you just open the doors. And if you open the doors, I'll walk right through.'" Since then he has captured the attention of the voting public in ways unexpected for a political rookie. The media is taking a closer look each week at the Carson campaign which so far has addressed the prominent issues within the Republican party base which has traditionally included opposition to the Affordable Care Act, as well as same-sex marriage, abortion, increased federal spending and unchecked immigration.