Serena Williams: Pound for pound, the greatest ever
As she cements her place in history, when will she get her proper respect?
By Jason Lewis OW Contributor | 9/3/2015, 6 a.m.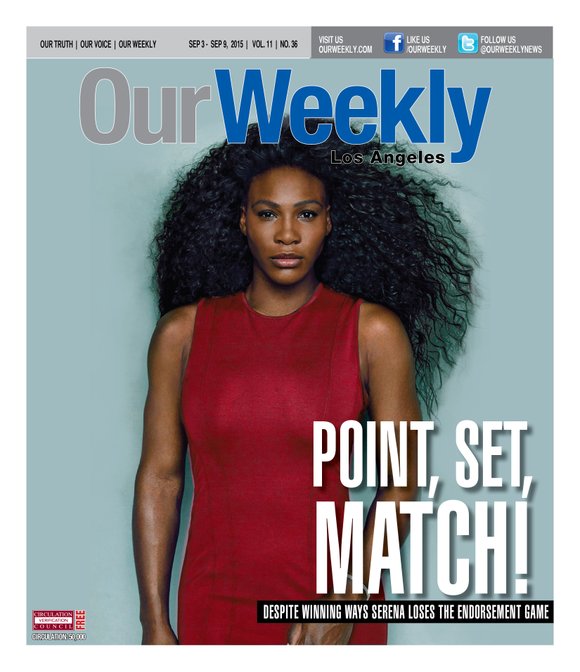 Serena Williams is on the verge of putting her face on the Mount Rushmore of sports.

With the U.S. Open beginning, Williams is getting close to ending any argument about who is the greatest female tennis player, and she is only one Grand Slam title away from tying Steffi Graf for having the most championships in the Open Era.

Williams has already collected the "Serena Slam" by winning the last four Grand Slam titles. She is now going for the calendar Grand Slam, a feat that has not been achieved since Graf won all four Grand Slam titles events in the same year—1988.
Williams has become so big within the tennis world that for the first time ever, the U.S. Open's women's championship match sold out before the men's event. She is by far the biggest draw in the sport. But even with all of her accomplishments, not to mention her impact on the game, Williams, as a Black woman, still takes a back seat to her White counterparts when it comes to earnings.

In 2014, Williams earned a combined $24.4 million ($12.4 from tour winnings, $12 million from endorsements). The top earner in all of tennis was Roger Federer, bringing in a whopping $68.2 million, with $65 million coming from endorsements. Rafael Nadal made $35.6 million, with $21 million coming from endorsements.

While Williams has been a bigger draw than either, it can be said that comparing her to the male headliners of the sport is like comparing an apple to a walnut; mainly because sports are typically dominated by men. But that point would not hold up when Maria Sharapova is factored in. She is the third highest earner in tennis at $27.1 million, which includes $22 million coming from endorsements.

Sharapova has been regarded as the second best female tennis player over the past few years, well behind Williams. But Sharapova pockets $10 million more in overall earnings. Williams has 21 Grand Slam titles compared to only five for Sharapova, and the numbers are even more skewed in Williams' favor, when they face each other.

In 20 career head-to-head matches, Williams holds an 18-2 lead, including winning the last 17 matches. Over the course of that winning streak, Williams has won 34 sets to Sharapova's three, and Williams is on a 14-set winning streak.
The statistics demonstrate that Sharapova is not on Williams' level in any way, so why is there such a huge disparity in enorsements?
There appears to be a race issue here, but it may be deeper than that, believes experts. Michael Jordan did not have the same issue. And LeBron James is the current endorsement leader in the NBA. Tiger Woods' endorsement figures have dwarfed his competitors, who are mostly White. So it appears to be more than simply a Black vs. White issue, say some critics.

"There is a factor of both race and gender," said legendary African American sociologist Harry Edwards, Ph.D. "I think that there is a particular type of image and so forth that many organizations and potential sponsors have in [mind in] terms of the women that they want as the face of their products. And I think that there's no question that those images, those expectations do not always favor African American women."