CD8 listening tour series begins
Two more dates set
9/3/2015, midnight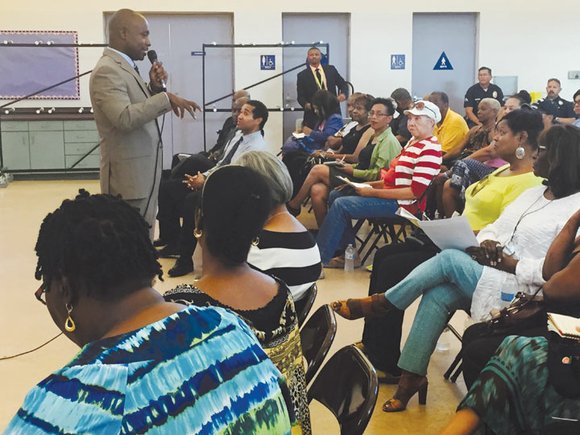 Community Coalition President and CEO Alberto Retana introduced City Council Member Marqueece Harris-Dawson to a group of nearly 100 Council District residents last Wednesday in the Van Ness Park recreational center's un-air conditioned meeting room.
Although attendees were fanning themselves with whatever papers and public comment cards were handy, tempers did not run hot.
"Now we have a friend and ally in City Hall," Retana said. "And he's moving the needle in the right direction. But the responsibility for our community starts with you. The residents lead, the community leads."
Harris-Dawson, former CEO of the Community Coalition, is hosting a series of town halls throughout the Eighth District to engage residents on issues that matter to them.
"This is day 56 of being on the Los Angeles City Council," he said, revealing that day was a particularly long business one. "We spent the whole day discussing Uber and Lyft."
But the Councilman admitted to a victory vote in a separate committee meeting, where it had been suggested that homeless persons would be cited for leaving their belongings on the sidewalks.
"It just seemed a little bit like piling on—to hit them with a misdemeanor," Harris Dawson said. "As if living on the street wasn't bad enough."
The Councilman wants to restore the idea of responsive government, and to that end, his staff handed out public comment cards to the audience and encouraged residents to step up to the microphone and speak face-to-face with their representative.
"I live near Vernon and Western, and to see the number of marijuana dispensaries around there is heartbreaking," resident Deborah Powell, 66, said.
"We're aware of that intersection," Harris-Dawson replied, pointing out that he lives near 92nd street and Gramercy himself. "And we're going to attack that corner in a very vigorous way."
The Councilman pointed out that only four of the dispensaries in District 8 are actually legal. Many of the commercial properties in the area have absentee landlords who may not know that their building is being rented out to tenants who hang their green cross shingles at the door.
"We'll be working with the LAPD on this problem." Harris-Dawson said. "With the help of the City Attorney, we'll put owners on notice. We have to make the push now in order to set the standard."
A number of residents were also concerned with the invasiveness of the Crenshaw/LAX Transit Project. Even though the project is well underway, many are dissatisfied that Metro has planned for most of the track to run on the street (at-grade) instead of underground, calling it an environmental and safety hazard that splits the community.
"It's cheaper to run at-grade," Harris-Dawson said, nodding to the Metro representatives at the meeting who previously told the audience that the Metro Board of Directors had given them their marching orders. "But you don't have to convince me that it's a bad idea."
The councilman urged his constituents to utilize the city's 311 services—via phone and downloadable ap—for bulky item pickups, tree trimming and graffiti removal.
"We call less than other parts of the city," Harris-Dawson said. "But if you call today, you'll get your tree trimmed maybe 11 years from now."
He asked that residents call his City Hall offices after calling 311, so they can keep track of the response times in the district.
The next CD8 Listening Tour events, which are open to the general public, will be held at 6 p.m. in Green Meadows neighborhood on Oct. 20 and at 6 p.m. in the Vermont Knolls neighborhood on Nov. 17. For additional location information and to RSVP, contact Ansley Jean Jacques at ansley@cocosouthla.org or (323) 750-9087.