Trump confused by rise of 'gaffe-prone,' 'super low-energy' Ben Carson
Manny Otiko | 10/29/2015, midnight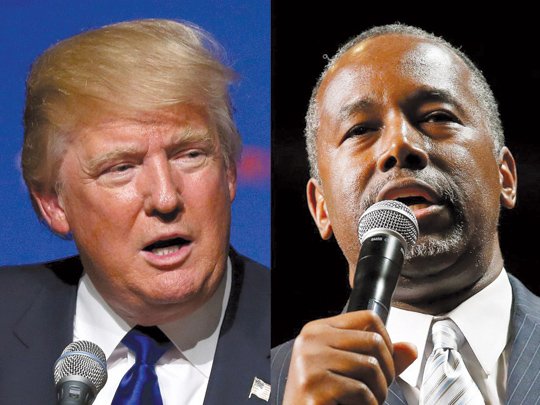 Going into Wednesday's Republican debate, Donald Trump had been usurped by retired neurosurgeon Dr. Ben Carson. Inspite of a string of highly-publicized gaffes, including saying he wouldn't vote for a Muslim running for president and comparing abortion to slavery, Carson was still riding high in Iowa polls.
The website Politico reported that at least two Iowa polls had Carson outscoring Trump. In a Bloomberg Politics/Des Moines Register poll, 28 percent of likely Republican caucus goers said they supported Carson. Trump trailed behind at 19 percent. Sen. Ted Cruz came in third at 10 percent, Sen. Marco Rubio was fourth with 9 percent and former Florida Gov. Jeb Bush and Sen. Rand Paul came in fifth with 5 percent.
Although Bush denied his campaign was sinking, he recently staged an emergency meeting with family members and donors in Houston to discuss new campaign strategies.
Interestingly enough, Carson and Trump, currently the GOP's two leading candidates, each have no political experience. According to political analysts, this says a lot about the mood of the electorate which is very anti-establishment. Voters seem tired of career politicians and want to see new blood. But even though Trump and Carson are both riding high, questions remain about their ability to handle the media and whether they are really presidential material.
Trump expressed skepticism at Carson's rise and branded him as "super low energy."
While he appears first in Iowa polls, Trump still got to stand center stage during the debate, because CNBC ranked the candidates based on several nationwide polls. Trump had the highest score in this case with a little more than 25 percent of voters.
In an interview with MSNBC, Trump admitted to being confused by Carson's popularity.
"I'm going there (Iowa) actually, and I have tremendous crowds and tremendous love in the room and, you know, we seem to have hit a chord," said Trump in an appearance on "Morning Joe." "But some of these polls coming out, I don't quite get it. I was No. 1 pretty much in Iowa from the beginning, and I would say we're doing very well there. So I'm a little bit surprised ... The other polls, as you know, in other states are extraordinary, actually. This one I don't quite get. I would have thought we were doing much better. I think we are doing much better, actually."
The fourth Republican debate is scheduled for Nov. 10 at the Milwaukee Theater, in Milwaukee. It will be hosted by the Wall Street Journal and Fox Business Network. It is a year from the election.
The next Democratic debate takes place on Nov. 14 in Des Moines, Iowa. The event will be hosted by CBS News, KCCI-TV and the Des Moines Register.
Hillary Clinton, whom the national media deemed the winner of the first Democratic debate, is now one of a field of three candidates. The others are Sen. Bernie Sanders and former Maryland Gov. Martin O'Malley. Former Sen. Jim Webb dropped out of the race and may run as an Independent. Former Sen. Lincoln Chafee also quit the race. Wisconsin Gov. Scott Walker has also dropped out of the Republican primary.