Local restaurants still draw crowds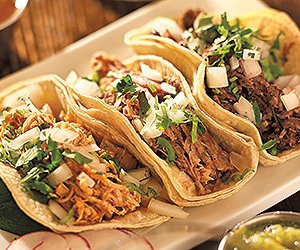 More than a decade ago, the Los Angeles City Council voted to re-christen South Central Los Angeles as simply South Los Angeles. They wanted to erase the so-called stigmas associated with the old working-class, industrial—and previously segregated area which was typically associated with gang violence and poverty. But there were always great places to eat. Here are a few of those old eateries which remain as popular as ever:
Original Bill's Tacos, 219 E. Martin Luther King Blvd. Outside of the famous Dunbar Hotel and Lincoln Theater on Central Ave., you'll probably not find many other remnants of the glory days of South Los Angeles. But at Bill's Tacos, located a few blocks west of Central Avenue, you'll find plenty of older African American customers and their multi-generational offspring who still share stories about the neighborhood and how long they've been dining there. It really is an original taco—(no ground beef but hamburger patties)—wrapped in a soft-shell tortilla and topped with all the favorite delights including red chili gravy much like red enchilada sauce of the same era. No need for reservations, and the service is fast.
Diners have been coming to Bill's from 20 to 66 years. The interior is decorated with homages to Martin Luther King Jr., Ceasar Chavez, Nelson Mandela and now Barack Obama. The present owner, Eva Won, began as an employee decades ago and now owns the place.
Louisiana Fried Chicken and Taco, 4378 S. Main St. Originally specializing in tacos and other Latin libations, this is one of the few "taco stands" remaining in the area. Louisiana Fried Chicken was founded in Los Angeles by Joe Dion, a fast food industry veteran who worked at Jack in the Box and Pioneer Chicken before venturing out on his own in 1976. He partnered with Reggie Harper and Michael Eng, an African American and a Chinese American, to license the recipes. Hence, the proliferation of Louisiana Fried Chicken (a spicy blend often served with rice and/or jumbalaya) restaurants in the Black community. The eatery is a testament to the ubiquitousness of restaurants owned by Chinese immigrants in the United States, most notably the old Owl Cafe on Central Avenue.
Azla, 3655 S. Grand Ave. African Diaspora restaurants are all the rage today, but have operated in South Los Angeles for decades. While the majority of Ethiopian restaurants are concentrated on Fairfax Boulevard (where Mid-City meets the Westside), a handful of Ethiopian eateries are spread south and east of Little Ethiopia.
Located inside Mercado Paloma, Azla Vegan Ethiopian is one of them. It's a family affair. Matriarch Azla Mekonnen (and head chef) and youngest daughter, Nasanet Abegaze, opened the little food stall in 2013 and now draw an international customer base from nearby USC. They cater primarily to African Americans who seek their Pan African heritage foods that are plant- and grain-based. The gluten-free, soy-free, yoga-pants-wearing crowd have made this a favorite spot to dine.