Covered California unveils new campaign to attract more Black enrollees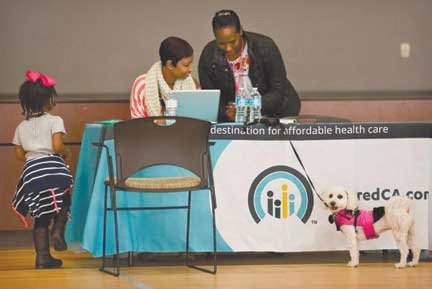 Covered California will launch its third enrollment period this weekend with an increased focus on African American enrollment. The state's heathcare exchange has not attracted a sufficient amount of Black enrollees and will introduce a new marketing and outreach campaign to boost enrollment among a portion of the population which lags far behind in having medical coverage.
Promoting the tax credit, which has been in place since the program began, is one way to attract more African Americans into the exchange. Peter Lee, executive director of Covered California, said projections demonstrate that 5 percent of eligible persons are Black, but African Americans comprise only 2.4 percent of enrollees. They want to change that dynamic by increasing outreach in communities like the Crenshaw District, Inglewood and in Park Mesa.
"We are increasing our efforts significantly in the African American community, because a significant portion of these citizens may not know that they can receive financial assistance for Covered California," Lee said. "Our aim is to not only get them in the door, but keep them in the door. That's why we must advertise more, and we plan to focus our efforts on the ground in the Black community."
There are reportedly 136,000 eligible Black Californians, yet of the 2.4 million persons who are uninsured most of them are Black and Latino. Lee said awareness of the exchange is high in the Black community (about 80 percent), but financial constraints may have prevented the majority of these persons from enrolling. To counter this, Covered California this summer conducted Black focus groups statewide and found that information about the tax credit, more focus on moving from a "culture of coping" to a "culture of coverage," and increased interaction with community health organizations such as Crenshaw Health Partners have provided a clearer indication about the best methods of attracting more Blacks.
"We'll do much more outreach this time," Lee explained. "For instance, in our meetings and research, we found that within the faith community, Black citizens are seven times more likely to hear about the tax credit than they would though conventional advertising. The Affordable Care Act is a huge change in American society. It could be called a social justice issue. Covered California is putting forth a sustained effort to enroll African Americans, and we'll do that in the neighborhood ... on the ground ... and not just in ads or promotions."
To further discuss the availability of health insurance, representatives of Covered California will embark on a 38-city bus tour this winter to get the word out.
The new campaign will center around establishing enrollment centers at highly familiar and visible locations; conducting marketing and outreach that is specific to African American consumers, and engaging businesses, schools, churches and community organizations. New outreach materials will advise African American consumers that their health and well-being is worth insuring and that many Californians are receiving thousands of dollars each year to help with the cost of health insurance premiums."
"It's money that African Americans shouldn't walk away from," Lee said. "We've made great progress in helping African Americans gain the coverage they need and deserve, but we recognize there is much more to be done to prove to the remaining uninsured the value of health care coverage."