Student Athlete of the Week:
Crenshaw High School's Armenia Pollard
Jason Lewis | 10/1/2015, midnight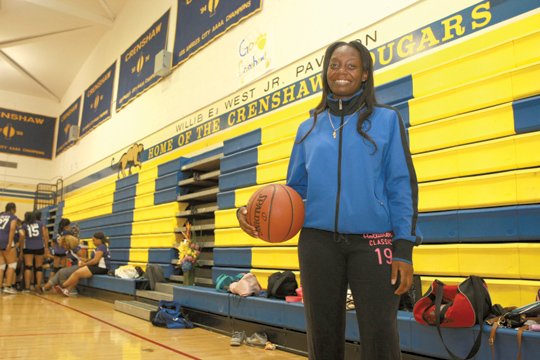 Armenia Pollard plays basketball at Crenshaw High School with a certain aggression that many girls do not have. She's naturally athletic, and gained her toughness as a young child because of the gender makeup of the street she grew up on.
"All boys, there were no girls on my block," Pollard said. "They played like I was one of the guys. It made me more aggressive, tougher, and it gave me thicker skin. When I went from playing with the boys to the girls, it wasn't completely easier, but it was softer. It wasn't really as hard as I thought it would be. I'm a very aggressive player, and I think that it started from back then."
Pollard did not limit herself to just playing basketball with the boys.

"I also played street football with them," she said. "All the things that a tomboy would do. I wasn't girly. But I actually did girly things on the side. I was a cheerleader, but I'd still go home and play football in the streets with the boys."
Pollard has tried just about every sport. She participated in track, softball, volleyball, cheerleading, dance, but her true love became basketball.
"Basketball was my go-to when I had problems with something," she said. "If I didn't want to talk out my problems, I took them out on the court, so it was like my escape route."
Pollard started playing organized basketball at the Vanguard Learning Center in Compton while in the sixth grade. She was also a cheerleader, which she considers a sport, for the Inglewood Jets youth football program. She was a cheerleader all the way until high school, when she gravitated to dance.
"When I came here [to Crenshaw High School] I wanted to cheer, but my mom didn't want me to because she was tired of paying for the uniform, and then I noticed that the dance team was better, so I went the dance route," Pollard said.
Her high school athletic career got off to a quick start; she received some playing time on the varsity team as a freshman, and she became a starting guard as a sophomore. This year she is transitioning to point guard and she credits her athletic background from playing various sports as the reason why she has been successful.

"Every sport has its own unique tools that you need to be successful," Pollard said. "If you put all of them together, there shouldn't be anything that you can't do."
Pollard also excelled in the classroom, taking advance placement and honors classes, with math being her favorite subject.
"I like the challenge that I get from trying to solve the problem," Pollard said. "Knowing that there is a solution that I can get to, it just challenges my brain."
Pollard is taking the SAT this Saturday, which could be a problem for her. That is because she will have to find time to sleep, since she is a part of the high school's Team Heal program. In this role, she works as an athletic trainer at all of the games, so she will be at Crenshaw's football game the night before her big test.