Holiday magic at Palmdale Playhouse
OW Staff Writer | 11/27/2015, midnight | Updated on 11/27/2015, midnight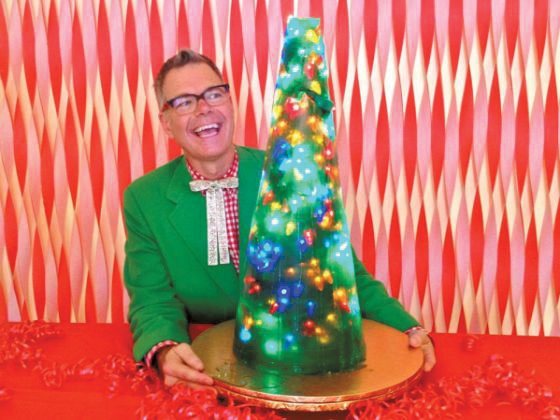 The Palmdale Playhouse, 38334 10th St. East, this week kicked off its 2015 Holiday Extravaganza with not only an early visit from Santa Claus, but with a full plate of music, dance, comedy and lots of Yuletide fun.
The annual Holiday Open House will find jolly St. Nick visiting from 11 a.m. to 4 p.m. Dec. 2 and 9, and again on Dec. 14 from 4 to 9 p.m. There will be a special "Sing-a-long With Santa" set for 6 p.m. on Dec. 5. Admission is free for these events; a photo with Santa will cost $5.
"Take a break from the traffic and crowds to experience the sights, sounds and scents of the season," said Ann Pagliaro, a representative with the Palmdale Playhouse. "The Playhouse will be filled with seasonal decorations and we'll have complimentary refreshments to enjoy."
On Dec. 6 at 2 p.m., the Palmdale Junior Ballet and Theatre Dance Company will present "Hansel and Gretel" and "For the Love of Christmas." These family-friendly performances are suitable for children 2 years and older. "Hansel and Gretel" is a one-act dance fantasy featuring forest creatures, angels, gingerbread children and the wicked witch who lures the little Bavarian tikes through the forest and into her wicked kitchen. As their parents search the woods for the lost children, Hansel and Gretel conspire to escape the witch's giant oven and to free the gingerbread children from her evil spell.
After this performance, the Palmdale Theatre Dance Company will perform fun and entertaining holiday dances featuring "We Wish you the Merriest" by Bing Crosby and Frank Sinatra, "Sound of Christmas" by Ramsey Lewis and "Zat You Santa Claus?" by Louis Armstrong. Tickets are $12 for adults; and $10 for seniors, students, military (with photo ID) and children 12 years and under.
On Dec. 13 at 2 p.m., the entertainment turns comedic as the "Ambassador of America," Charles Phoenix, presents his "Retro Holiday Slide Show" while leading the audience on a hilarious, high-octane adventure into his color world of "flea-market finds" and vintage Kodachrome slides. Phoenix takes a nostalgic look back at the way we once gifted, decorated, dressed, dined and drank for the holidays during the 1950s and 1960s. Festive holiday dress is encouraged. Tickets are $15 for adults and $12 for all other visitors.
The celebration culminates Dec. 17-19 when the West Coast Classical Beginning Strings, Beginning Band and Jazz Combo present "Holiday Celebration" featuring "Frosty the Snowman" and a new arrangement of "Let It Snow, Let It Snow, Let It Snow." The music starts at 7:30 p.m. On Dec. 18 at 7:30 p.m., the West Coast Classical Flute Choir, Saxophone Choir, Wind Ensemble and String Orchestra will present "Making Spirits Bright," featuring holiday favorites like "Jingle Bells," and "Winter Wonderland" in another new arrangement. Then on Dec. 19 at 7:30 p.m., the West Coast Classical Concert and Symphonic Orchestra will present "Sounds of the Holidays" with festive music like "Noel" and one of the all-time holiday favorites "Silent Night." Tickets for each performance are $12.
"We're excited to have such a fun-filled holiday extravaganza to offer residents," Pagliaro said. "We're encouraging everyone to come see what community theatre is all about, support and enjoy quality entertainment and celebrate the holiday season with us."
Tickets for all Palmdale Playhouse events may be purchased online at www.cityofpalmdale.org/playhouse, or at the box office beginning two hours before showtime. For more details, call (661) 267-5684.