America should thank Black people for the precious 'gift' of civil rights
Struggle of one group benefits all of society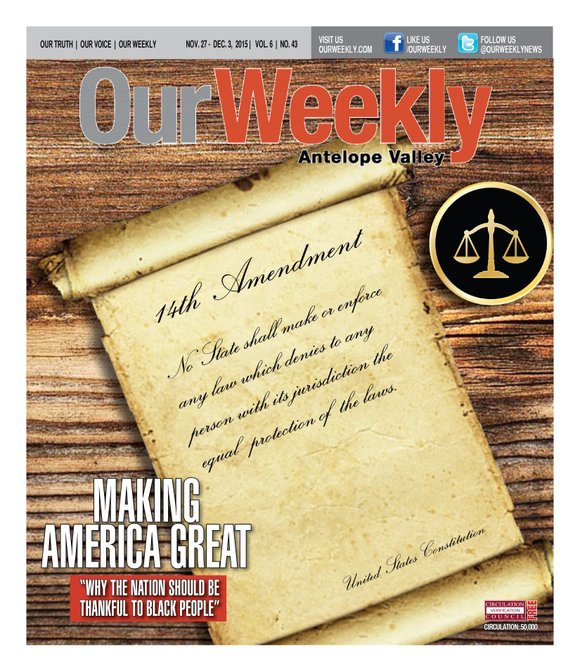 Thanksgiving Day has always been America's benevolent benediction. It is a time to acknowledge the many blessings and the good fortune which come our way, as well as an opportunity to reflect on all the people and history which have helped shape our lives through good times and bad.
African Americans have certainly helped to shape the United States into a world power, but often when the discussion of Black history ensues it becomes more of a "laundry list" of famous Black persons in sports, entertainment, politics, etc.
The United States of America in 2015 owes a considerable debt of gratitude to its Black citizens. Whether they be famous or obscure, rich and "powerful" or working-class and "strong," African Americans continue to offer a signature mark of courage, potency, and above all, faith that have become indelible trademarks of the fabric of America.
Building our seat of power
For about six months the dome at the Capitol Building in Washington, D.C., has been covered in scaffolding and is undergoing a multi-year refurbishment project. In 1793, slaves in what would become the District of Columbia helped to construct the neoclassical-style structure which serves as the seat of our national government. After it was burned down during the War of 1812, slaves rebuilt it during the Civil War (1863).
Black people are working on it again—this time with pay—which may serve as a salient point to remind everyone that African Americans have played a major role in helping to illuminate the strengths of the nation whether it be a limestone-and-marble edifice of democracy, or in the personal lives of the citizens it represents.
There is a considerable list of Black persons who have contributed to just about every facet of American life. However, not often considered are the constitutional and legislative actions that all of us live by which are the sole result of the African American struggle to overcome federally-sanctioned racial discrimination. Beginning with the 14th Amendment, many of the freedoms we hold dear today may not have been protected by law had it not been for African Americans.
The U.S. Constitution has been amended 27 times, but the 14th Amendment's statement of: "No State shall make or enforce any laws which shall abridge the privileges or immunities of citizens ... nor deprive any person of life, liberty, or property, without due process of law, nor deny ... equal protection of the laws" may be the most important link today with the Founders' belief in "... life, liberty and the pursuit of happiness."
'With charity for all'
The civil rights spelled out in this, the second of the "Reconstruction Amendments" ratified following the Civil War, are today guaranteed to all Americans. Skip ahead 100 years and we have witnessed many laws passed that guarantee civil rights to all Americans ... not just for Blacks, but for women, Latinos, Asian Americans, people with disabilities, the gay community, the homeless and other minorities who for 50 years have waged their own civil rights campaigns.