Musician Cynthia Robinson dies
Co-founded Sly and the Family Stone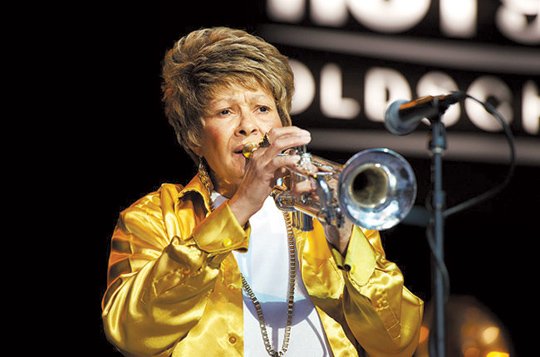 Cynthia Robinson, groundbreaking trumpeter and a co-founder of Sly and the Family Stone, has died after a battle with cancer. She was 69.
In October, Robinson disclosed in an online fundraiser that she had been diagnosed with cancer. The fundraiser was an attempt to help defray her medical bills. Her death was confirmed by long-time bandmate Jerry Martini, another co-founder of the group, who played saxophone.
Robinson was an integral member of the '60's rock group, later called Family Stone after Sylvester "Sly" Stewart left the band. That's her voice urging fans to "Dance to the Music" and her horn that blazed through the band's sets on hits like "Thank You (Falettinme be Mice Elf Agin) and "Everyday People." "Dance to the Music" contains a reference to Robinson as Sly Stone yelled out: "Cynthia and Jerry got a message that sayin'" with Robinson retorting "All the squares go home!"
Robinson was one of the first Black trumpeters—and the first woman—in the Rock genre to gain notoriety in a major recording act. Martini told Billboard that she should never be considered a background figure. "She covered a lot of ground," he said. "She was the first female trumpet player and the first African American trumpet player in the Rock 'N Roll Hall of Fame. She wasn't in the back. She was out front telling you to get up and dance to the music and she could blow with the best of 'em, always."
Robinson, a native of Sacramento, had roots than ran deep into the Blues and R&B genre. She told Family Stone biographer Joel Selvin, "I used to hear all these guys on '78s at my mother's when I was a teenager ... I used to daydream that I was onstage playing the solos; I'm playing with B.B. King, and I'm playing with Lowel Fulsome, Jimmy McCracklkin. And I literally ended up being in a band that backed them up at different clubs. It was a dream come true, but that was as big as I could dream."
In 1966, Robinson joined Stone—who dubbed her "... one of the best trumpeters in the world"—in his early synthesis of the group called Sly and the Stoners and she remained a pivotal figure as he crafted the pop/rock/R&B sound that would sell millions of records worldwide. It was one of the industry's first integrated groups. After the band broke up in 1975, she went on to play with bassist Larry Graham's Graham Central Station and also worked with George Clinton, Prince and as part of comedian Sinbad's Aruba Summer Soul Festival. Since 2006, she had been part of the Family Stone with Martini and drummer Gregg Errico. The group also features her daughter with Sly Stone, Sylvette Phunne Stone, a singer and multi-instrumentalist. Robinson had another daughter, Laura Marie. Her last song with Family Stone was this year's "Do Yo Dance."
Funeral arrangements have not been announced.