Black families are missing someone at the holiday table due to mass incarceration
Emmanuel A. Otiko | 11/25/2015, midnight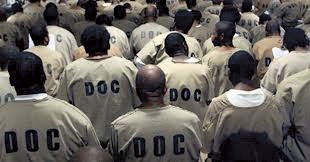 The holiday season is stressful enough for people having to deal with crowded shops and family members who don't always get along gathering in their homes. But many Black families are faced with another level of holiday stress—loved ones serving long prison sentences.
According to figures from the NAACP, Black Americans make up about 1 million of the nation's 2.3 million jailed population.
That is part because officials say the War on Drugs has caused mass incarceration for the Black community. Many men and women who got involved in drugs found themsleves convicted of long prison sentences. Consequently, many inmates have experienced multiple Thanksgivings and Christmases away from their families.
This is a problem that Keisha Downey, Ed.D., a licensed marriage and family psychotherapist based in Beverly Hills, has seen with many of her clients. Downey specializes in helping individuals, couples, families, and adolescents. She is also a resident treatment counselor on the VH1 show "Couples Therapy with Dr. Jenn Mann."
"About 80 percent of my clients have reported having a loved one incarcerated at some point, which negatively impacts and disrupts the family and culture of the family," said Dr. Downey. "Long-term incarceration can lead to different forms of emotional stress within Black families during the holidays such as excessive worry, constant grief, separation issues and anxiety, adjustment issues, depression, anger etc. Additionally, the thought of being incarcerated or what a person has to endure in prison can be considered emotional stress all by itself."
Los Angeles resident Lauren Lake, a judge on "Lauren Lake's Paternity Court," has also witnessed the effect mass incarceration has had on Black families.
"As a criminal defense attorney in Detroit, I was unfortunately very familiar with families that struggled with one or both parents being incarcerated for extended periods of time," Lake said. "People often assume it is the father that is incarcerated, but it is important to remember that women– mothers—are in prison as well."
According to the Sentencing Project Research and Advocacy for Reform, Black women make up 30 percent of the almost 1 million women currently incarcerated.
Downey suggests some coping skills to use. She recommends Black families try to maintain a relationship with their incarcerated family member, but also not to forget to take care of their own emotional well-being.
One way to do that is to try to visit. However, Downey cautions that visiting a loved one in prison can be traumatizing for family members, especially when they see what condition the person is in. That can be because family members listen to the loved ones experiences on the inside and can internalize those negative emotions and may begin to worry about their safety.

"It's best practice to help families express to each other on the outside how they are feeling about the loved's one's incareration to prevent internalizing negativity,"she said. "Also, finding ways to include their loved ones [in family activities] during the holidays such as being available to talk over the phone, sending holiday cards, letters etc. More importantly, implementing self care, in the form of sleeping [enough], eating healthy, and obtaining emotional support from other family members."