Youth lead new levels of protest
This is not your mama's civil rights movement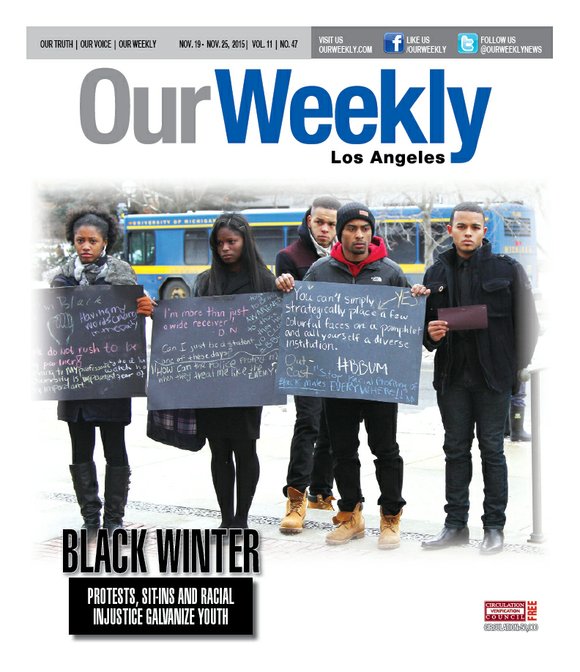 In addition, her father, Art Cribbs, a former journalist and current activist and executive director of Interfaith Movement for Human Integrity, has been on the front-line fighting for marginalized communities more than 40 years.
Cribbs said "a multitude of issues including the failure of Occidental College to heed to the requests of African American students down through the years prompted her actions." This led to Cribbs' decision to organize a protest. According to Cribbs, "It was agreed by all participating student organizations that allowing Blacks to lead would be monumental. The protesters included Asian, Latino, Muslim, and White students.
"On Monday morning, I woke up knowing that we had a rally at noon. I got dressed in all black and then went to work at the Center for Community-Based Learning from 10 a.m. to 12 p.m. I was anxious and excited because of some of the tension happening on campus. I wasn't sure how students would respond to the request to show up for a protest."
Nearly 400 students showed up for the protest. Organizers thanked faculty, and other students who supported the movement. Cribbs said she was "surprised that they had so many White allies." School officials estimate the protest would continue until at least tomorrow.
The Occidental college incident was just one of many college and university campuses that have been impacted by Black-led protests and demands for a more race-sensitive environment. Student activists at the University of Missouri, Purdue University, Claremont McKenna College, Yale University, Amherst College, Emory University, Georgetown University, and Princeton University are among the schools that have been the scene of student protests in the last two weeks.
At the University of Missouri, the group Concerned Students 1950 demanded that the percentage of Black faculty members be increased to 10 percent by the 2017-18 academic year. They also demanded that the university devise a plan to raise the retention rate of Black students, and that the former president, Tim Wolfe, issue a handwritten apology, among other things.
At Purdue University, students have demanded that president Mitch Daniels apologize for not acknowledging a culture of racism that exist on the campus; that the university reinstate the position of chief diversity officer; and that a racial-awareness curriculum be created and required for students, faculty members, staff members, administrators, and police officers.
At Claremont McKenna College, the junior class president resigned Tuesday after a furor erupted over a Facebook photograph that showed her with two women who were wearing sombreros, ponchos and mustaches for Halloween. A campus demonstration followed protesting the image.
At Amherst, a private liberal arts college in Massachusetts, student activists began a sit-in last Thursday at the campus library, intending "to stand in solidarity with the students in Mizzou, Yale, South Africa and every other institution across the world where Black people are marginalized and threatened." Students gathered "to speak about their experiences with racism at Amherst and beyond," according to the newspaper, The Amherst Student.
At Emory University, a blog read that the university's president James W. Wagner, had been trying to control the damage done by a column he wrote for the university magazine. In it, he praised the 1787 three-fifths compromise, which allowed each slave to be counted as three-fifths of a person in determining how much Congressional power the Southern states would have, as an example of how polarized people could find common ground. Wagner's article has been seized upon by students and faculty members who say it was yet one more example of insensitivity from the Emory administration, which in September announced sweeping cuts that some say unfairly targeted programs that are popular with minorities.