Youth lead new levels of protest
This is not your mama's civil rights movement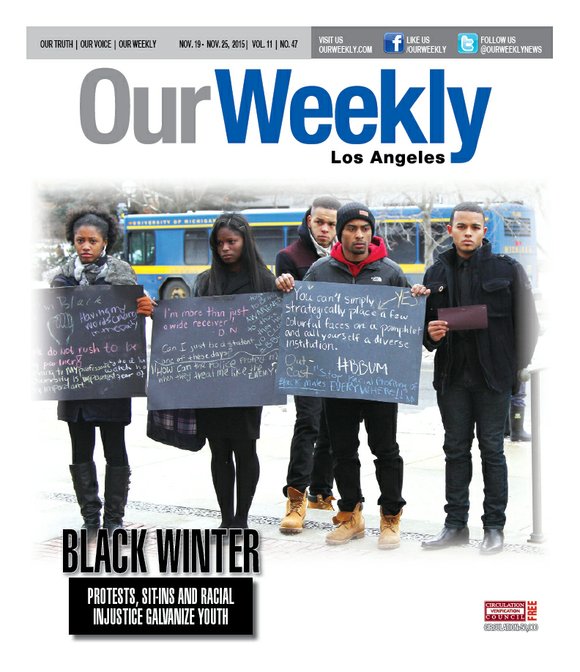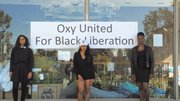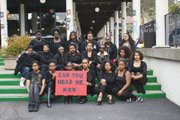 Recently, in a repeat of actions reminiscent of college campuses 50 years ago, African American students have gathered in solidarity in an effort to change the learning institutions they attend, and these protests have gone viral. This week Our Weekly was able to interview an organizer at the center of the storm.
Mika Cribbs, a 21-year-old senior at Occidental College (Oxy) majoring in community development and media relations is a mixed race African American and Japanese American student who was propelled by a racist incident that happened on campus.
"Last year a Trayvon Martin Memorial was created by African American Occidental students, in memory of the slain teenager, using Skittles and cans of Arizona ice tea. Two White students decided to desecrate the memorial by eating the Skittles and drinking the Arizona ice tea that was placed out for the memorial. Once the students were informed (that it was a memorial), they continued drinking and eating the items from the memorial, ignoring pleas from onlooking African American students to stop."
According to Cribbs, weeks after that incident, "Occidental's Black Student Association (BSA) reported the incident to the school administration. But nothing was done. In retaliation, White students who were part of desecrating the memorial, made a counter complaint against the BSA, and the individuals who complained were forced to attend 'conduct' meetings. However, there was no disciplinary actions taken towards the two White students," Cribbs said.
This uneven treatment prompted Cribbs to look back at the history of ethnic protest by students at Occidental. Among the facts she discovered was that in March of 1912 during the college's 25th anniversary, Booker T. Washington was invited by then-president Willis Baer to visit the campus.
She also discovered that Oxy had a Black president, John Slaugther, from 1988 to 1999. In 1968, a group called "the Black Caucus," took over the Occidental administrative offices with a list of demands that would have made the campus a better environment for Blacks. These included creation of a Black Studies major, a demand that has remained unfulfilled.
On Feb. 18, 1981, Barack Obama, who was a student at Occidental College at the time, delivered his first public speech urging Oxy to divest from South Africa. The future president of the United States spoke standing in front of the same administration stairs occupied by "the Caucus.
In the 1990s, Oxy began to cut back on its financial support for multiculturalism which led to protests and sit-ins at the administration building for multiple days.
"Many of these demands have been carried over from generation to generation. I felt like it was crazy that the school had continued and not met any of these demands," said Cribbs.
For her, this was a turning point. She and sophomore Adrian Adams started "I, Too, Am Oxy"—a social media campaign started in 2013 and documenting microaggressions against Blacks on Occidental's campus. The "I, Too, Am Oxy" Tumblr page features pictures of Occidental students holding white boards documenting their experiences with racism. They initiated the project to provide students of color a social media platform through which they could tell their stories. Ultimately, the project also served to publicize these issues to the broader campus community—the page has reached almost 10,000 views to date.