Childhood mental illness remains early stigma that can last a lifetime
L.A. County boosts treatment services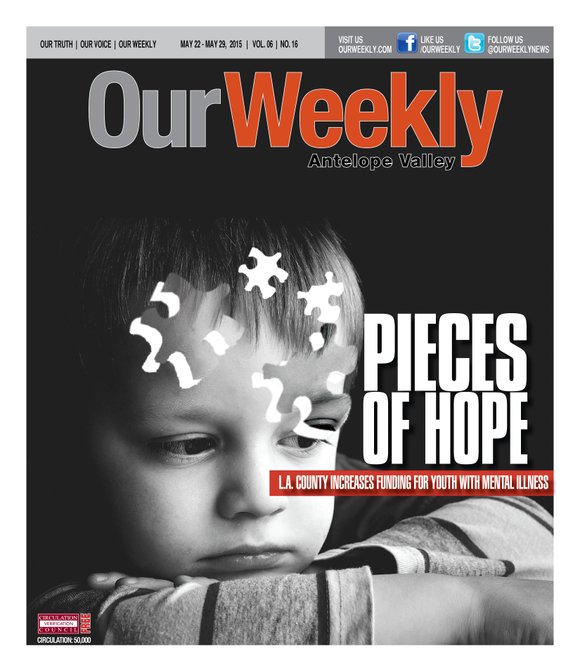 Practically no one expects a child to be intentionally harmed physically, sexually or emotionally, but it happens every day. Experts have for years concluded that child abuse, in general, often leads to mental disorders that affect behavior, self esteem, identity, and social and cognitive development.
Recognizing the need for increased child mental health services, the Los Angeles County Board of Supervisors is focusing more attention on this youthful community which can sometimes be forgotten because of the huge number of daily cases of child abuse officials must deal with not only locally, but across the nation.
Led by Supervisor Michael Antonovich (Fifth District), the board of supervisors recently approved additional mental health funding to expand the county's capacity to serve children. This includes providing more financial resources for the Children's Center of the Antelope Valley, 45111 Fern Ave., Lancaster, and also for Counseling 4Kids, located in Burbank and in Torrance. These agencies provide vital mental health services to child victims of abuse, children at risk of abuse and their families, as well as youth in the foster care system.
Improving the 'parent-child' relationship
The Children's Services Center provides child abuse treatments, parent-child therapy sessions, a family preservation module, family support services and, importantly, an "enriched" play program to allow youngsters who may live in an abusive environment to enjoy being a child without the overhanging threat of physical, mental or sexual abuse.
The federal Centers for Disease Control and Prevention (CDC) last summer released a report describing mental disorders among children as "serious changes" in the way they typically learn, behave or handle their emotion. Such symptoms of mental disorders are said to usually begin in early childhood, although some of the disorders may develop throughout the teenage years. These disorders can be treated and managed says experts—provided they are identified early—and if parents, doctors and the typical support group such as teachers, coaches, counselors and therapists communicate freely with one another and are closely involved in the child's treatment.
Without early diagnosis and treatment, it is widely believed that children with mental disorders may have problems at home, in school and in forming relationships. An undiagnosed mental illness can also interfere with a child's healthy development and if not addressed, problems can continue into adulthood. The National Research Council and Institute of Medicine in 2011 gathered findings from a number of previous studies and reported that 13 to 20 percent of American children—irrespective of sex, race or ethnicity—will experience a mental disorder in any given year. That's about one in five children exhibiting a form of mental illness.
About $260 billion is spent yearly on childhood mental disorders, according to a 2013 report by National Resource Council Institute of Medicine.
"One of our responsibilities is to open the lines of communication between parent and child," said Sue Page, executive director of the Children's Services Center of the Antelope Valley. The center offers a number of services designed to address early signs of childhood mental illness. "We provide support for parents to make changes. Our in-home counselors work with parents to prevent possible child abuse. We're there to help kids who often can be the most vulnerable members of the community."