Student Athlete of the Week
Crenshaw High School's Avrie Blackwell
By Jason Lewis | 5/8/2015, midnight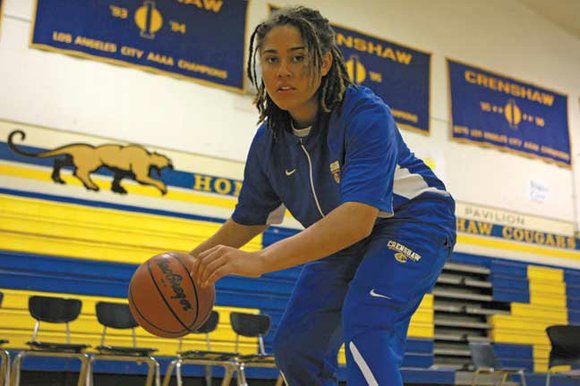 Avrie Blackwell's calendar is pretty full. She is the captain of Crenshaw High School's girl's basketball team. She is also the captain of the school's robotics team. She has taken nothing but AP and honors classes since the 10th grade. And she is a volunteer at her church, as well as at a local hospital.
Blackwell's busy schedule has not prevented her from excelling at school, where she carries a 4.24 grade point average, and she has been accepted to three Ivy League universities, as well as several other colleges around the nation. She intends to be a heart surgeon when she completes her education.
A path through athletics was set for Blackwell well before she was born. She is the youngest of six, and all of her older siblings received athletic scholarships, mostly in basketball. She has one brother who currently plays in the NFL. But her father, Cory Blackwell, who played for the Seattle Supersonics as well as for teams overseas, had a different path for his youngest child.
"He never wanted me to play sports," Blackwell said. "I wanted to be a doctor since I was a little kid, so he was always like, 'you don't have to play, you can stay home.' But he was really animated about sports with my other brothers and sisters. But he never really wanted me to play."
Blackwell's father has run youth basketball camps for years, but she did not fall in love with the sport like her siblings did.
"I actually played soccer first, because I didn't want to be like everybody else in my family," Blackwell said. "And I was like a really nerdy, smart kid. So I did a lot of robotics, science, and medical stuff. I chose that I wanted to be a doctor. I was kind of the odd sheep out of my family."
Blackwell gravitated to soccer as a young child, and she was really good at it, but she could not stay away from her family's sport for long. When she enrolled at Crenshaw High School leading into her sophomore year, the sport kind of called out to her.
"I came to Crenshaw High School, and I didn't know anybody," Blackwell said. "I was just shooting outside one day, and the coach came up to me and asked me if I wanted to practice with them."

That's all it really took to get Blackwell involved with basketball, but she had a major learning curve.

"When I started playing basketball it was really awful," Blackwell chucked. "I was really bad. But I practiced everyday. I had to really do a lot of work. In school, after school, going to the park, doing a lot of things to become a better basketball player. My coaches say that I'm naturally strong, but I do a lot of pushups, sit-ups, and workout at night after I do my homework, just to become a better basketball player."
It was not long before Blackwell became one of the best players on the team, and as a senior she was named captain. This past season she averaged 17 points per game, and she would like to continue playing in college.