Breaking the cycle
South L.A. Art Festival celebrates conductors of modern-day underground railroad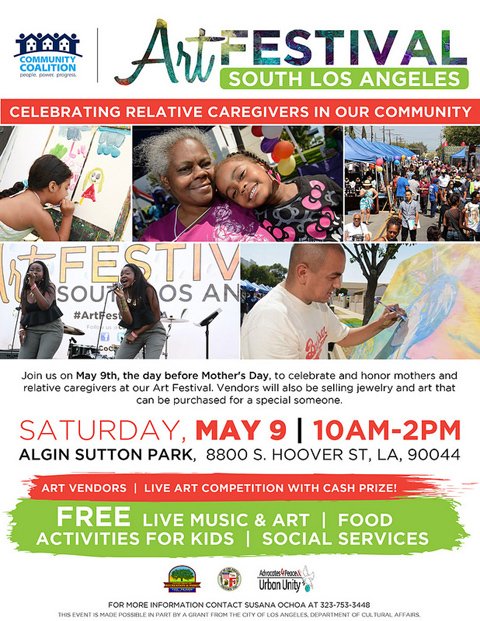 Community Coalition (CoCo) will bring together artists and musicians to shine a spotlight on the foster-care-to prison pipeline and the people on the frontlines who work to disrupt it.
CoCo will do this during its third annual South L.A. Art Festival from 10 a.m.-2 p.m. May 9 at the Algin Sutton Recreation Center, 8800 S. Hoover St., Los Angeles. The event will also give the community an opportunity to meet conductors of the "21st century Underground Railroad."
Research has shown that 7 out of 10 California inmates were former foster care youth, and in Los Angeles County alone, there are more than 36,000 youth with open cases in the Department of Children and Family Services. South L.A. itself has the highest percentage of that foster care population.
Relative caregivers are the disrupters of the foster-care-to-prison pipeline. They are the uncles, aunties, grandmothers, grandfathers and older siblings who take on the task of caring for youngsters who would otherwise end up in the foster system.
When they come together under extraordinary circumstances to care for the child of a relative, they are known as relative caregivers. Data shows that children do better when they stay with relatives.
Aviana Mason, a former youth under the care of a relative and expected to be at the festival says, "I couldn't imagine my life without my grandmother Arlean. My parents couldn't be there, but she was. She kept a roof over my head, made sure I went to school on time, she did a lot that she didn't have to do, and I'm thankful for that."
In addition to hearing live music from smooth jazz act Impact, Mexican folk singer Gloria Arjona, Afro-Carribbean performers, the Leimert Park-based World Stage African Drum Circle and the Olo Itotiani Aztec Dance Group, attendees will see dance performances by relative caregivers and see a live art show.
The art contest takes place from 11 a.m. to 1 p.m., and artists must pre-register to participate and have a chance to win a cash prize of $300.
Interested artists, can sign up until Friday at noon by contacting Diana de la Torre at (323) 750-9087. The person who best depicts the life of a relative caregiver, or the impact of foster care on children will win.
Acceptable mediums include poetry, fine art, visual art, and judging will be done by relative caregivers and South L.A. artists.
Artists will also be on hand selling their paintings, jewelry and other wares on site.