Gas prices spike once again
Across Los Angeles County motorists ponder 'fill-up' or 'rip-off'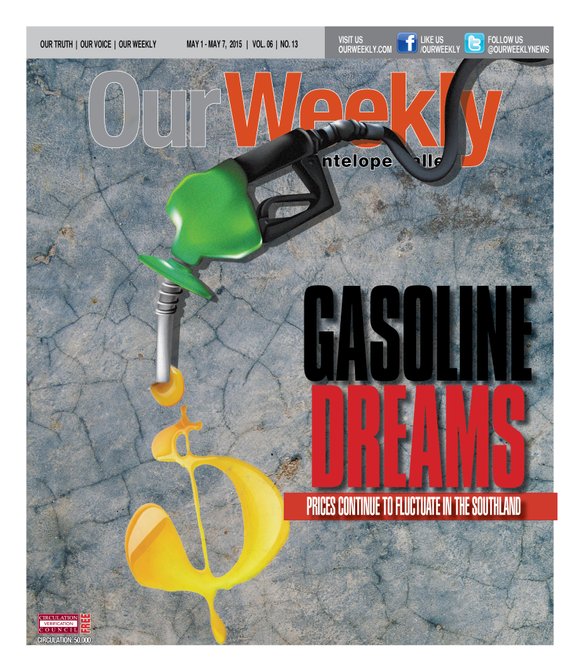 In speaking to the Brent index, Tomas Varga, a commodities analyst with Barclays, said this week that the last time that net long positions (a scale used by large stock investors when purchasing futures and options) hit such an unusual high was in August 2013 when the Brent crude oil price rose to $114 per barrel, versus current levels of about $65. "Basically, the current price level simply does not confirm money manager's enthusiasm," Varga said. He added that demand needs to improve and that supply needs to be reduced, "if oil prices are to stabilize."
The latest Lundberg survey, a weekly oil industry report, puts the average price of a gallon of regular gas at $2.58 nationwide, and $3.23 in California. Of course, the nation's most expensive gas price is in Los Angeles County ($3.30 says Lundberg) while regular unleaded is selling somewhere between $2.95 to $3.19 in Tuolumne County (in the Sierra Nevadas) and at about $3.09 to $3.29 in Calaveras County. Closer to home in Orange County, the average price per gallon of gas has reportedly jumped 6.1 cents ($3.31 on Monday), representing a seven-day increase of $17.8 cents.
Morning, evening prices different
What happened in Torrance this year actually stunned a gas station owner. Frank Scotto, a former mayor of Torrance who owns a Chevron and a Mobile station, said the oil companies essentially "forced" him to pass along a 24-cent overnight increase. He said it was the largest one-day increase that he'd seen since he began tracking pump prices 48 years ago. The refinery explosion occurred on Feb. 18 and before the fire was fully extinguished, county gas prices had risen by 10 cents in less than 8 hours.
"I've been doing this for a long trime and the whole thing is a shock to me," Scotto said. "I'm very disappointed the price has changed so dramatically. I don't think there's enough evidence stemming from the blowout to justify this increase."
Tupper Hull, a spokesperson for the Western States Petroleum Association, explained the dramatic price hikes in relation to the annual switch from winter blends to summer blends that must be completed by mid April for "quality reasons." Also, he explained, price volatility is accentuated in California because the state is "geographically isolated" from the rest of the nation and additional crude oil supplies must be brought in by ship rather than via pipelines.
"When (fuel wholesalers) are concerned or anxious about supplies tomorrow they tend to bid up the cost of available supplies today," Hull explained. "It's entirely possible what we're seeing today is a delayed reaction to events at some point in the past." Hull used the analogy of a baker who "... needs to change his bread today in order to have the money necessary to buy flour tomorrow" in offering an explanation for the "overnight" price spikes. Basically, if the baker believes the price of flour is going to increase the next day, he/she must charge more for today's bread. "That's true in fuels, too," Hull said.