California Poppy Festival will usher in colorful spring season
Scheduled April 18 and 19 in Lancaster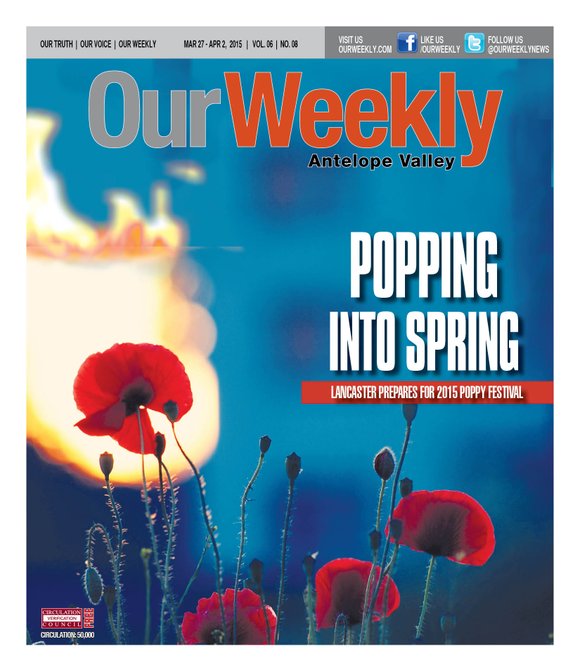 Several dozen exhibits will be part of the 55-acre festival, and there is considerable walking involved. Because spring temperatures can vary in the region—from 80 degrees before noon to below 60 degrees only a few hours later—organizers suggest visitors dress in layers, wear comfortable shoes and bring a supply of bottled water. Sunscreen and sunglasses are also recommended. Pets, alcoholic beverages, skateboards, bicycles, scooters, radios, roller blades, Frisbees, tables and coolers are not permitted on the preserve grounds. Bags may be subject to inspection by the Sheriff's department.
Activities for all ages
Among the scheduled activities will be an Adventure Zone where festival performers will engage in a number of acrobatic feats. An Aerospace and Aviation Zone will focus on the history of the aeronautics industry in the Antelope Valley.


Animal Attractions will include a collection of reptiles, birds and insects, some of which are indigenous to the Mojave Desert. The Arts and Crafts Marketplace will offer to visitors a veritable "shopper's paradise" with more than 200 vendors and thousands of homemade fine arts and quality crafts. Included will be handmade jewelry, wooden toys, glassware, aromatic soaps, silk floral pieces, denim clothing, candles, stained glass, hats, stoneware, baskets, quilts and blankets, leather craft work and even lawn accessories. Native Indian goods, metal items, and a variety of pottery items willalso be featured.
A Farmer's Market will offer fresh flowers, assorted plants, decorative topiaries, bonsai trees, bamboo, wildflower seeds, cacti and, of course, colorful poppies. Homegrown fruits and vegetables will also be available along with assorted nuts, roasted corn, olives, garlic, honey, jams and jellies, salsa, gourmet spices, and fresh homemade dressings.
Outside of the midway at the famous Antelope Valley Fair, the poppy event may feature one of the largest arrays of festival foods in Los Angeles County. Included are the traditional "fair foods" such as funnel cakes, and kabobs, supplemented by a wide assortment of ethnic foods.
The Fine Arts area will feature paintings, pottery, wood working and photographs from local artists.
A Healthy Living Pavilion will provide to visitors information and interactive workshops focusing on exercise, nutritional tips and general wellness advice. Representatives from the Los Angeles County Health Department will discuss smart ways and tips to pursue better health and have nutritional information; the Northern L.A. County Nurses Association will have representatives on hand to inform about summer injury prevention. Visitors can also access information about scuba certification.
A chiropractor will be there to perform requested examinations; consultants will also demonstrate how to use natural facial products such as aloe vera as a skin moisturizer.
Sights, sounds of different cultures
The International Marketplace is one of the more popular attractions each year. Here, visitors can experience the exotic sights and sounds of African, Chinese, Indian, Polynesian, Native Indian, Italian, Polish, Scandinavian, Austrian Aboriginal, Egyptian and Jamaican cultures. There will be a contingent of dancers, musicians and other performers demonstrating traditional arts and games from these various cultures.
Eight miles of trails meander through the park, including a paved section for wheelchair access. Benches are situated along the trails to allow visitors to gaze at red tail hawks and many species of song birds. Officials at the park ask that visitors be wary of rattlesnakes, gopher snakes and scorpions. Lucky viewers may even spot a bobcat or coyote. Shaded picnic tables are available on a "first-come, first-served" basis.