California Poppy Festival will usher in colorful spring season
Scheduled April 18 and 19 in Lancaster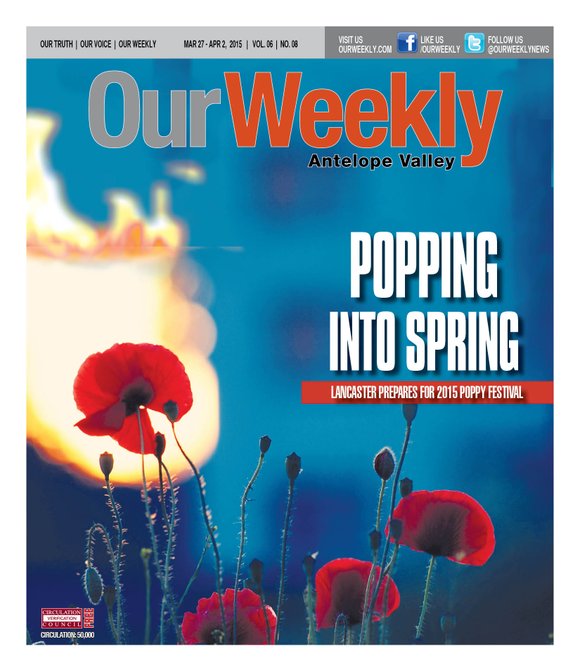 It's time again to break out the sun hats, walking shoes, short pants and binoculars to capture the breathtaking beauty of the 2015 California Poppy Festival set for April 18 and 19 at Lancaster City Park, 43011 N. 10th Street West.. Open from 10 a.m. to 6 p.m. both days, the annual showcase of multi-colored poppies is said to be one of the nation's most picturesque events as thousands of visitors are expected flock to the region to catch a glimpse of the brilliant, beautiful blossoms.
Tickets are $8 for adults 13 to 61 years, $5 for children 6 to 12 years (no charge for kids under 5 years), $5 for seniors above 62 years, and $5 for active/retired military members (with current military identification). Wheelchair rentals are $10 for four hours. Also, groups of 20 or more persons may purchase refundable tickets. Parking is free in the dirt lot across from the park with trams circulating between the entrance/exit and the parking lots. Preferred parking at the Antelope Valley Transit Authority Park and Ride is $5; free parking for disabled persons is available at the Stanley Kleiner parking lot. Motorcycle parking is available on the grounds on Sunday only for $10.
Free wildflower maps may be obtained at the Lancaster Museum/Art Gallery. These maps can assist visitors in learning about the best viewing locations before heading out on foot. Also, the city of Lancaster and the Lancaster Women's Club each year sponsors a Wildflower Information Center to allow visitors to gain a little more insight into the history of the festival.
California's premiere poppy place
The California Poppy Festival takes place on the state's most consistent poppy-bearing land, about 3,000 feet above sea level. The preserve is not all fields of gold flowers but is speckled with a mosaic of color from purple lupine to delicate cream cups. The brilliant display of blossoms and fragrance usually lasts through mid-May, with peak viewing at the time of the festival. The on-going drought resulted in minimal blossoms last year, but thanks to some welcome storms cascading throughout the Antelope Valley in late February, officials expect many more flowers this year.
While the canvas of poppies this year may not fully cover the rolling hills and glens as usual, there are a plethora of wildflowers which grow naturally in the Mojave Desert and should be on display during the festival. Among these are coreopsis (yellow with daisy-like petals), monolopia (in the daisy family), phacelia (blue cupped shape), blue dicks (clusters of blue petals), cream cups (upright, shaggy hairs), desert dandelion (tiny yellow sunflowers), thistle sage (purple topped sage), desert calico (white to deep rose-purple petals) and Mojave aster (lavender, oval-shaped blooms). Other wildflowers that a visitor may spot include baby blue eyes (bright blue, bowl shaped), blue sage (fragrant, two-lipped flowers), California buckwheat (tiny white flowers with pink centers), Chinese pusley (tiny tubular white blooms), comet blazing star (small yellow-orange petals), desert candle (dark red buds on top), Fremont pincushion (cream-colored cone flower), lacy phacelia (tiny blue or lavender flowers), paper bag bush (cream colored with purple top), red stem filaree (pink or magenta petals) and scarlet bugler (red tube-like blooms).