Student Athlete of the Week
Hamilton High School's Louis Walker
By Jason Lewis OW Contributor | 3/19/2015, midnight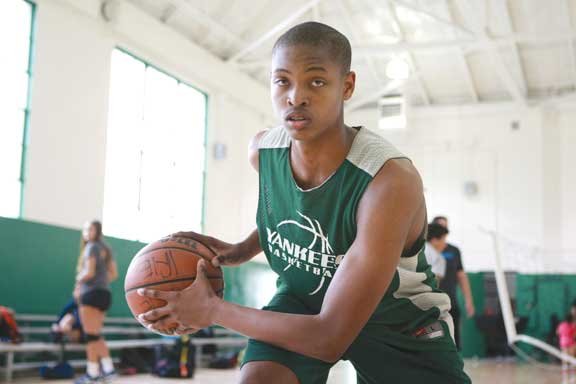 Louis Walker has a bright future ahead of him as an engineer, but before he gets to college to prepare for the field of his choice, he's helping lead Hamilton High School to basketball dominance.

Standing at 6'3", he is a power forward who plays on both the low post and on the perimeter. He gets a lot of points off of rebounds, and he doesn't pass up open jump shots. As a junior, basketball is coming pretty easy for him, but it was not always that way. He did not play organized basketball until the 7th grade, and two things were really tough for him in the beginning.
"Dribbling, and learning plays," Walker said. "I was new to organized basketball, so I really didn't know how to adjust to plays."
As a young child Louis played baseball, and he always got in pickup basketball games on the blacktop at lunchtime. He also ran cross country as a freshman. But basketball was in his genes.

"I had a lot of help from my dad," Walker said. "He used to play basketball, so he inspired me to play."
Walker's father played at Cleveland High School and Glendale College, and he has played a vital role in his son's career.
"He's passing on everything that he knows, and he helps me become a better player," Walker said. "When he comes to my games or practices, he'll guide me and try to help me learn what my coaches are saying. He'll repeat what they are saying, and tell me why my coaches are right. He just tries to help me be a better player."
Walker takes a lot of pride in seeing his father in the stands of his games.
"I look at a lot of my teammates, and not a lot of their parents come to their games," Walker said. "So to have my father there, it's pretty cool. And when he's there, at halftime he'll tell me a few things, how to improve and what to do around the court."
Walker's basketball career at Hamilton is going very well so far. As a freshman, he was a starter on the junior varsity team that won the league title. As a sophomore he came off of the bench on the varsity team, which made it all the way to the Division III City championship game. This past season, he averaged 11 points and nine rebounds on Hamilton's Division II City championship team.

Winning the City Section title was an unbelievable experience.
"Our coach told us that we could win a championship, but not a lot of us believed him at first," Walker said. "Back to last year in the summer, when we went to Vegas he was telling us how we could win, and all summer up until the season started we all worked hard. So it felt really good to win it."
Walker has come a long way as a basketball player, and his coaches have said that his ability to listen, grasp the concepts of the game, and being a coachable player are his strengths. He is a fast learner and he does not make the same mistake twice.