2 University of Oklahoma students expelled over racist chant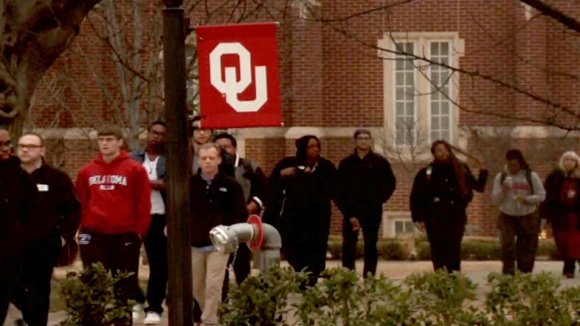 Two University of Oklahoma students were expelled Tuesday for their alleged "leadership role" in a racist chant by Sigma Alpha Epsilon fraternity members, a decision that President David Boren says speaks to his school's "zero tolerance" policy for such "threatening racist behavior."
The expulsions come days after the video surfaced and hours before the midnight Tuesday deadline that SAE members were given to pack their bags and get out of their house.
It was only a nine-second clip, but the fallout has been disastrous.
The national chapter of SAE shuttered the house at OU, and Boren said the university's affiliation with the fraternity is permanently done.
"I was not only shocked and disappointed but disgusted by the outright display of racism displayed in the video," said Brad Cohen, the fraternity's national president. "SAE is a diverse organization, and we have zero tolerance for racism or any bad behavior."
Still, it could get worse. Oklahoma may not be the only source of embarrassment for the fraternity.
"Several other incidents with chapters or members have been brought to the attention of the headquarters staff and leaders, and each of those instances will be investigated for further action," SAE said.
The national chapter didn't provide details of the alleged incidents or where they are said to have taken place.
The fallout
Boren said he's done with SAE at Oklahoma.
"The house will be closed, and as far as I'm concerned, they won't be back," he said at a Monday news conference. The university also is exploring what actions it can take against individual fraternity members.
"There seems to be a culture in some of these fraternities, and it just has to be snuffed out," Boren told CNN.
The video shows students on a bus, clapping, shouting and chanting. "There will never be a ni SAE. You can hang him from a tree, but he can never sign with me."
Both the student newspaper, The Oklahoma Daily, and Unheard, a campus organization launched after the police shooting in Ferguson, Missouri, received the video over the weekend and released it.
Unheard posted the video to its Twitter and YouTube accounts.
President declares 'zero tolerance'
The decision to shutter the fraternity was an easy one for Boren.
"If we're ever going to snuff this out in the whole country, let alone on college campuses, we're going to have to have zero tolerance and we have to act right away," the former Oklahoma governor and U.S. senator said.
"This is not a place that wants racists or bigots on our campus or will tolerate it, so I think you have to send a very strong signal."
Campus demonstrations
Unheard organized a protest after the video was released.
"Proud to stand with @OU_Unheard," tweeted OU student Alex Grant. "Proud to be a Sooner."
The Oklahoma football team joined the outpouring with a demonstration of its own.
Coach Bob Stoops marched arm in arm with players across campus, instead of practicing.