Arrests made in 'red shoes' murder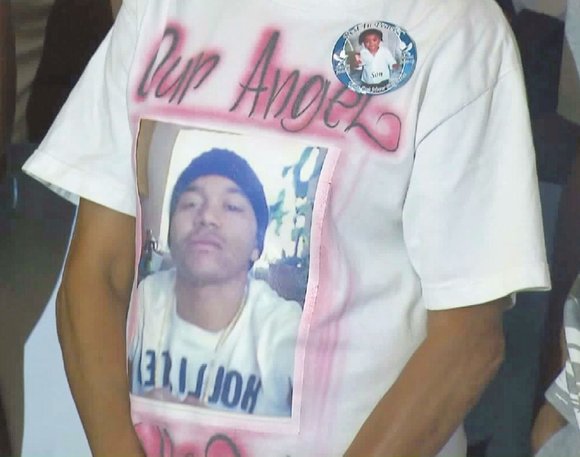 Four persons were arrested this week in connection with the May 29 fatal shooting in Hyde Park of 19-year-old Tavin Terrell Price who was allegedly killed for wearing red shoes.
Three men have been arrested on suspicion of murder, including the suspected shooter, who was taken into custody outside a home near Houston, Texas, according to Los Angeles Police Department Detective Chris Barling. Two of the men, ages 25 and 30, were arrested last week and were charged with murder. Barling said each man is a local gang member. Barling added that a 27-year-old woman was arrested during the initial investigation on suspicion of witness intimidation and being an accessory after the fact. Each suspect was identified on Tuesday at a news conference conducted at 77th Street Division.
Price was fatally shot in front of his mother at a car wash in South Los Angeles as the two were reportedly headed to the beach.
"First of all, I want to thank God for answering my prayer for justice for my son," said Jennifer Rivers, the teen's mother. "Everything I hear is Tavin saying, 'Mommy, am I going to be all right'? 'Mommy, I'm not going to die, am I'? That's all I hear everyday. I've got to live with that for the rest of my life. That's torture. You robbed me of my baby."
Barling said Price had gone to Simms Car Wash in the 3300 block of West Florence Avenue with his mother and a family friend. He then walked to a nearby smoke shop when a man confronted him about his red shoes and reportedly asked what gang he was with. Price didn't reply and walked back toward his mother. The man reportedly followed Price, along with another man who had been in the shop. Around the same time, the shooter allegedly arrived and was joined by one or both men from the shop and proceeded to shoot and kill Price. Price was not in a gang; his mother described him as "mentally challenged."
"We have tragedy often in our community, but there are very seldom times where we see senseless tragedies like the one involved in this particular homicide investigation where a young man is killed simply because of the color of his shoes," said William Scott, LAPD deputy chief of operations for South Bureau. "We thought those days were past us."
Councilman Bernard Parks (Eighth District) last week introduced a motion for a $50,000 reward for the information leading to the arrest of Price's killer(s).