Verbum Dei sends entire senior class off to college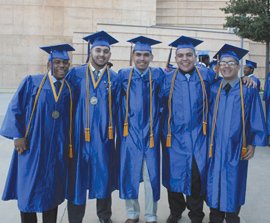 For the eighth consecutive year, each graduating senior at Verbum Dei High in Watts has been accepted into a four-year college or university.
Seventy students from the Jesuit, all-boys college-preparatory school will now matriculate to higher education; Verbum Dei has a total enrollment of 260 youth, 50 percent of which are African American and 50 percent Latino. In order to be accepted into the school, a family of four must have a household income of under $40,000 per year.
"The difference with our students is that they want it," said Martinique Starnes, a dean at the campus which for years had been operated by the Roman Catholic Archdiocese of Los Angeles. "And if their parents want it—and they're committed to it—that commitment will lead them to where they are today."
While Verbum Dei High once produced some of the nation's "blue chip" All-Americans in football and basketball, the school today is recognized for high-level academic prowess.
In 2000, the school was having financial troubles and was about to close. Two years later, Cardinal Roger Mahony asked the Jesuits to take over and the school was then linked with the Cristo Rey Network of Catholic schools, which provides a college preparatory experience for disadvantaged urban teenagers.
"We are reinforcing the belief that inner-city kids can accomplish anything they are capable of," Starnes said. "Our top priority is college acceptance, and that entails a high degree of early college counseling. Class time is devoted to what we call a 'college-ready' curriculum, and that begins when the kids arrive here in the ninth grade. These are terrific young people who go on to achieve great things."
Starnes, who oversees counseling and student affairs, said many of the graduating youth will stay local attending schools such as Loyola Marymount University, Cal State Dominguez Hills, Cal State Long Beach, while some others will travel back east to Howard and Georgetown universities. Verbum Dei has also sent many youth over the years to St. John's University in Minnesota. There is a STEM (science, technology, engineering and Mathematics) component at Verbum Dei, and the school operates in conjunction of with Loyola Marymount University in an offshoot of STEM (CMAST) which incorporates such studies for students pursuing a bachelor of science degree.
Each week at Verbum Dei, the seniors will review college applications, go over what financial aid may be available, learn about prospective campus life and also look into majors offered. Extensive online study is also part of the school's curriculum. Parent-teacher conferences are a regular staple on campus.
"The parents play such an important role," Starnes explained. "Our faculty and staff have working relationships with the parents and we absolutely could not produce such outstanding young people without regular parental input."
Scripture, of course, plays a major role in the curriculum. Mass is mandatory, but all faiths attend the school. And the boys wear neatly pressed black slacks, crisp white shirts and a tie sometimes this attire takes getting used to, according to Miguel Morales, who thanked his parents at the graduationceremony.
"I didn't wear a lot of ties before, but when we came here it was okay," Morales said. "It's kind of emotional, you know. My parents were always there for me. They were always supporting me and my friends. After a while, we starting pushing each other to get to the finish line. Sometimes it was hard—a lot of stressful nights—but mom would always say 'It's going to pay off one day.'"