Mothers of slain Black men honored at the 'Standing in the Gap' forum
By Jason Lewis OW Contributor | 6/4/2015, midnight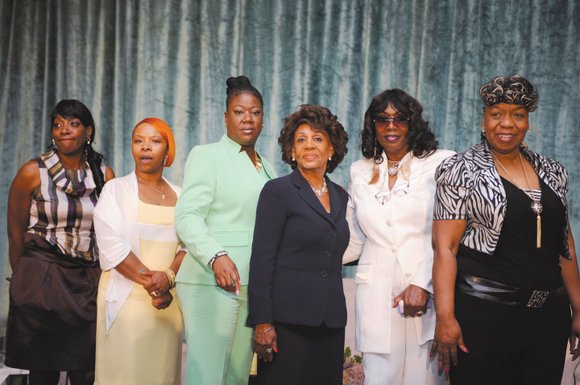 The Black Women's Forum held an intimate and engaging roundtable discussion this past Saturday which honored Black mothers who have lost their children to police violence. The forum was held during a luncheon at the Westin Hotel in Los Angeles.
Rep. Maxine Waters (D-CA-43rd District), who founded the Black Women's Forum, moderated the 'Standing In The Gap' discussion, which featured Sybrina Fulton, mother of Trayvon Martin, Lesley McSpadden, mother of Michael Brown, Tritobia Ford, mother of Ezell Ford, Gwen Carr, mother of Eric Garner, and Samaria Rice, mother of Tamir Rice.
"It is time for our community to join together and heal," Waters said. "However, healing only comes when we can first connect with the mothers, uplift them, understand the path forward towards justice and stand together in solidarity. I am proud to be a part of this event and hope to encourage these mothers to remain outspoken so that we can prevent any future deaths at the hands of senseless violence."
The ballroom at the Westin Hotel was filled to capacity, and each of the mothers spoke about their sons, the importance of protest, as well as other topics.
"We get angry about these stories that we hear on the news," Fulton said. "We protest and we have rallies, and then it just goes away until the next tragedy happens. I want to encourage you all to stay involved. Don't just get involved when it's a story. Don't just get involved when we lose a life. We all have to continue this fight because our children's lives are important."
The women touched on the ongoing theme that 'Black Lives Matter.'
"Just because we live in the 'hood, that does not define who we are," Ford said.
The Black Women's Forum is standing behind those women, and other mothers around the nation who have lost a child to police brutality.

"We are focused on supporting these mothers," said Beverly Davis, Black Women's Forum president. "Though these tragic losses may be out of the national news cycle, their stories are still very relevant and at the forefront of the Black Women's Forum agenda. 'Standing in the Gap' is just one aspect of BWF's ongoing commitment to curb the police brutality and violence that has disproportionately affected the Black community."