Inner City Romance
A mid-century take on cultural appropriation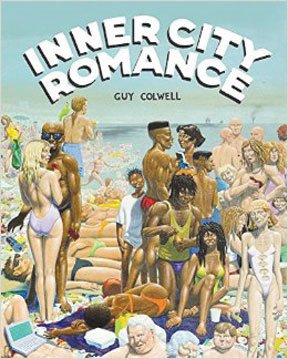 Colwell's experiences within the inner city, along with his incarceration, shaped and informed his artistic sensibilities, as he supplemented his first love of surrealistic painting (examples of which are included in the 2015 edition of "Inner City Romance") by contributing comic strips to the newly formed counterculture publishing company Last Gasp.
In the first "Inner City Romance" installment titled "Choices (1971)," three newly-released convicts ponder their options as they exit the penitentiary for the hedonistic possibilities of San Francisco. Two of the men select the logical choices of sex, legal and illicit forms of intoxication, and the continuation of their past criminal pursuits to provide the capital to engage in these vices. The third considers the option of Black militancy and political resistance.
Colwell's last panel has him pondering the alternatives of joining his fellow ex-cons in their hedonistic indulgences or slaughtering them in the name of revolutionary progress.
As the 1970s progressed and the Vietnam War ended, Colwell's political agenda took a back seat to his dual mantras of psychedelia and erotic passion. Still, his penchant for social commentary continued to manifest itself from time to time. In the 1978 "Sex Crimes," a White female is brutally molested by two male members of her own race before she shoots a hapless Black man who offers to help. The strip ends with the woman standing over her would-be benefactor, who quizzically mutters "Whud I do?" as he expires.

"Inner City Romance" (2015, by Fantagraphic Books) list priced at $24.99, is available at Amazon.com for $15.46.