Oasis 'wellness center' is welcome addition to AV health community
New development may attract more physicians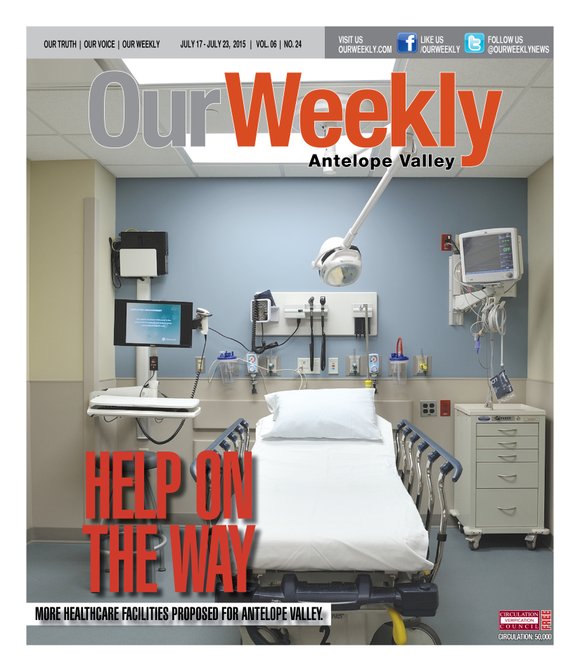 "Perfect fit" for Antelope Valley
Thomas Partners, a family-owned firm, has owned the land in Palmdale for more than 60 years. They believe The Oasis is a perfect fit now that Covered California is in effect. Also, one of the biggest reasons for construction is because such a large parcel of viable land acreage within the county is difficult to find. Outpatient services will be a priority, thereby relieving many Antelope Valley residents of the chore of commuting into Los Angeles for their health care needs.
"I'd been looking at this land that we have for some time now," Thomas explained. "And we were considering the Affordable Care Act as well, along with the direction of healthcare in America, and I thought that we could do something special here ... you simply don't find acreage like this on campus with a new hospital. There isn't a lot of new hospital construction taking place within the county, and the hospitals that already exist have campuses that have been built out. This concept is rare; the closest one like this is located in Henderson, Nev."
A portion of Palmdale Regional Medical Center has been reportedly leased by Thomas (no disclosure about who will move in), but the development president said that he wants to make the wellness center a type of gathering place for residents that can inspire a sense health and wellbeing daily. An example would be a proposed women's day spa where individuals can get a manicure or pedicure prior to undergoing an health examination. Weekends will feature farmers markets, outdoor movies and yoga instruction.
"There are few places in the Antelope Valley that serve as a community center," Thomas said, "and there wasn't anywhere a person could simply take a walk, enjoy the natural environment all under the 'umbrella' of a wellness community. This can be a place that instills pride in the community ... not just a place to go see the doctor."
A growing medical community
The Antelope Valley has some of the county's newest medical facilities, including Kaiser Permanente and City of Hope, along with Antelope Valley Hospital and Palmdale Regional Medical Center. But some of these facilities are reportedly being stretched thin because of increased enrollment in Medi-Cal and the steady stream of Covered California enrollees. The California Healthcare Foundation (CHF) reported that from 1993 to 2011, the number of physicians in California has increased by 39 percent, outpacing the state's 20-percent increase in population. But the demand for more medical practitioners remains because Covered California and the state's aging population has led to a rise in persons seeking medical care.
The Los Angeles County Department of Health has been busy the last few years redesigning its extensive county-operated healthcare delivery system, which includes hospitals, outpatient centers, and primary care clinics in collaboration with private hospitals and community health centers. These changes are intended to help both public and private safety-net providers remain financially viable, use existing capacity efficiently to serve more patients, and improve patient care.