Oasis 'wellness center' is welcome addition to AV health community
New development may attract more physicians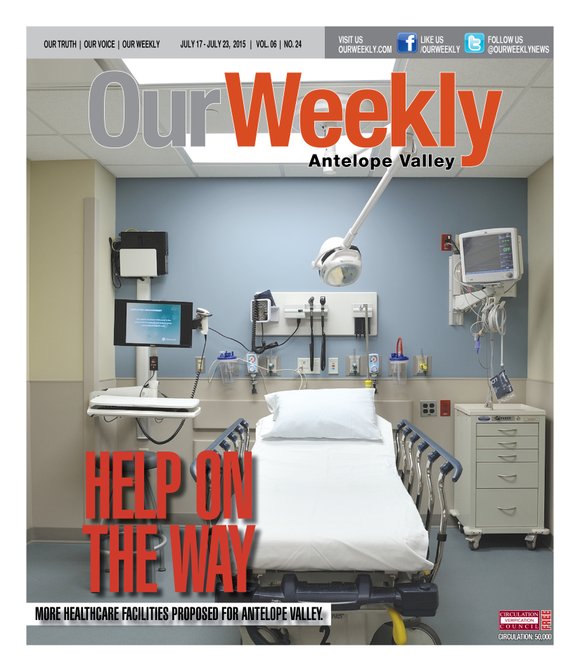 The Antelope Valley is one of Southern California's largest geographical regions, but the area lacks a sufficient number of large-scale medical facilities to serve its rapidly increasing population. A Los Angeles development firm plans to remedy this problem by building state-of-the art facilities near the middle of town.
Thomas Partners Properties in Los Angeles announced this month that it will build a new "wellness village" called The Oasis next to Palmdale Regional Medical Center. The development firm is partnering with a number of nationally-renowned leaders in healthcare to provide safe, reliable and brand-name medical providers. Groundbreaking is expected in June 2016.
The Oasis will be a 420,000-square-foot development spanning just over 17.5 acres and will include multiple "health districts," which will be designed to promote physical and mental wellness to provide a continuum of care in addition to hospitality, retail and dining opportunities. The preliminary price tag is a little more than $200 million, and the project is expected to create several thousand jobs during the construction and operational phases. Thomas Partners said the development will incorporate a variety of [proposed] public amenities and infrastructure components such as a public pavilion, parking, pedestrian areas, specific signage for the various venues, an "upscale-style" decor, and full landscaping. The development will also resemble a "spa-like" environment and feature new technologies such as a way to streamline check-in electronically with the latest "smart check-in" facilities said to cut down on delays during registration.
Addressing local 'healthcare crisis'
Palmdale officials are excited about the prospect of the city receiving additional healthcare services, given that the area is statistically among the state's most porous in terms of large hospitals. The California Medical Association (CMA) maintains a "standards of doctor-to-patient" ratio chart that signals the Antelope Valley is in a healthcare crisis because residents are dramatically undeserved. As more households spring up by the year, the medical association has found that the region needs about double the amount of doctors to fix the problem. The Oasis is said to have the potential to alleviate some of that pressure by recruiting a legion of physicians and other medical practitioners from some of the nation's best-known healthcare brands.
"This is a true healthcare success story," said Palmdale Mayor Jim Ledford. "We have a healthcare crisis in the Antelope Valley, and The Oasis is turning that crisis into an opportunity to promote better health and enhanced healthcare for everyone."
According to John Thomas, president of the development firm, The Oasis is a fortuitous addition to the Antelope Valley that couldn't arrive any sooner.
"This is the future of healthcare in America," Thomas said. "The Oasis wellness village will bring together the world's finest physicians, with everything from imaging and physical therapy to yoga and even farmers markets. This is the true integration of health and wellness."
By forging an early relationship with Palmdale Regional Medical Center, Thomas said, news of the proposed development has resulted in an exciting relationship. "We have been pleased to have had extensive conversations with our neighbor, Palmdale Regional Medical Center, and are hopeful that they will be an active participant in The Oasis. Based on our meetings, it is clear our vision at TPP is consistent with the hospital's long-term master plan. We look forward to working together with the hospital and the city to help make The Oasis become a reality."